There are plenty of manufacturers out there that are making CBD creams, CBD salves, and CBD balms. Before coming to a decision on which CBD cream, salve, or balm is right for you, it's important to look through the 3rd-party test results on realtestedcbd.com to make sure that the contents of the CBD cream match the label claim. Below is a list of the top 3 CBD creams that you can buy in 2020, which Real Tested CBD has sent in to be tested in our 3rd-party, independent lab.
[wpsm_stickypanel][contents h2][/wpsm_stickypanel]
1. Endoca Hemp Whipped Body Butter
Endoca Hemp Whipped Body Butter is one of the best-tested products on the market. This product contains a whopping 152 mg of THC, which made it one of the highest-tested THC per package CBD products. This CBD body butter comes in at $0.05 per mg of CBD and only $0.54 per mg of THC; extremely cheap! The product passed pesticide tests, as well as solvent tests. Real Tested CBD recommends this product! For more of Endoca CBD products, click here to visit their brand page.
2. Receptra Body Butter 175+ mg
Receptra Body Butter 175+ mg tested pretty much right to the label claim. This product is slightly more expensive (on a $/CBD mg-basis), but because it only costs $24, it's a great place to start if you're not certain that CBD creams are for you. Take a look at the other products that Receptra has to offer by clicking here. Not all of Recpetra's CBD products tested as well as this one, so make sure to read the expert review before purchasing any of their CBD products!
3. Elixinol Hemp Balm Extra Strength 250 mg
Elixinol Hemp Balm Extra Strength 250 mg comes in at our 3rd-highest recommended CBD cream, balm, or salve. The only downside that we found to this product is that it claims on the label to be made from full-spectrum CBD. When we tested This CBD cream, it showed 0 rare cannabinoids like CBC, CBG, CBN, and d9-THC. That being said, it did test accurately to the label claim for CBD, so if you're looking for a CBD isolate cream, and aren't looking for cannabinoids other than CBD, this CBD cream might be the right buy for you. To see more of Exlinol CBD products, click here.
Being that Real Tested CBD is focused on testing every CBD product on the market in an effort to provide accurate test results for all CBD oils, CBD creams, CBD edibles, and other CBD products, this listing changes over time. To stay up to date on the latest, best CBD creams, visit Best CBD Cream. If you're looking for a different type of CBD product, go ahead and visit our Best CBD Products page to find the CBD product that best suits your needs.
Most Recent Tested products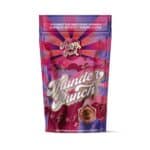 Happy Fruit Hemp HHC Gummies - Thunder Punch
$20.00
Cannacea Tagrid's 100 Full-Spectrum Hemp Oil
$77.50
Cannacea Activated 40 Full-Spectrum Hemp Oil
$38.50
Recent Posts
Blog Categories