Unlike Canada and some US states, the UK hasn't been very accepting of legal cannabis. However, CBD has been quasi-legal throughout England, Wales, Scotland, and Northern Ireland since 2018. We say "quasi-legal" because there are many unanswered questions surrounding the UK's hemp laws. For instance, the UK's food regulators are now in the news due to proposed changes in the CBD edibles market.
Anyone who plans on going to the UK with CBD must stay informed on how local leaders are trying to manage this cannabinoid.
What's Going On With CBD Edibles In The UK?
After numerous complaints from UK hemp companies, the Food Standards Agency announced it would allow more companies to apply for licenses to sell CBD-infused edibles. According to the most recent reports, CBD manufacturers have until May 26th to send the FSA documentation regarding the safety of their edibles.
Before this most recent announcement, the FSA was ready to review roughly 3,500 CBD edible products from about 370 businesses. These products would have to meet the FSA's standards for safety to legally be approved for sale in England and Wales.
Technically, CBD edibles aren't "legal" in the UK until they pass the FSA's tests. However, this hasn't stopped many CBD shops from selling CBD gummies, chocolate bars, and other snacks since 2018.
What Are The UK's Laws On CBD Oil?
Like in the USA, UK regulators hold CBD edibles to a higher standard than CBD oils, tinctures, and topicals. Generally, these latter products are classified as either health supplements or beauty products, thus they aren't as heavily regulated by the FSA or FDA. However, CBD edibles remain a central concern for the FSA and FDA due to their role in food safety.
Therefore, if UK residents want to remain well within the law, they should stay away from edible products until they have full approval from the FSA. The same could be said for US residents, but it's easier to find hemp-derived edibles in states with relaxed cannabis or hemp laws.
Beyond the edibles market, the UK doesn't have a problem with licensed farmers growing CBD hemp flowers. UK hemp farmers just need to check their hemp has ≤ 0.2 percent delta-9 THC.
Also, full-spectrum CBD products aren't technically legal in the UK. As it stands today, CBD oils, topicals, and vape carts should always contain zero THC content — so only broad-spectrum and CBD isolate are legit at this time. While it's unlikely anyone in the UK would get arrested for using a CBD oil with ≤ 0.2 percent THC, it's worth mentioning there aren't explicit legal protections for full-spectrum products.
So, Can UK Tourists Legally Travel With CBD?
While it may seem like the UK takes a hardline stance against hemp, there has been a surge in demand for CBD amongst UK residents. Some estimates claim the UK CBD market is worth at least $950 million.
Although the UK has different restrictions versus most US states, it takes a light approach towards CBD products with zero THC. At this time, it's best for travelers to the UK to only pack CBD oils with third-party lab tests that show they're either broad-spectrum or isolate. If you don't understand these terms, we'd recommend reviewing Real Tested CBD's guide to full-spectrum, broad-spectrum, and CBD isolate.
Most Recent Tested products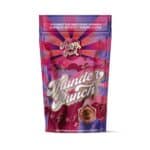 Happy Fruit Hemp HHC Gummies - Thunder Punch
$20.00
Cannacea Tagrid's 100 Full-Spectrum Hemp Oil
$77.50
Cannacea Activated 40 Full-Spectrum Hemp Oil
$38.50
Recent Posts
Blog Categories