There is a new cannabinoid gaining rapid popularity, but it's accompanied by lots of questions regarding legality.
Delta-8 THC is a psychoactive cannabinoid found in the cannabis plant family. It is a less potent form of delta-9 THC, the primary psychoactive component found in cannabis plants, but it still produces some psychoactive effects. Several states in the US have already banned delta-8 THC, while others are considering banning or regulating it. So, which states have banned delta-8 THC and what could future regulations look like? Let's take a closer look.
What Is Delta-8 THC?
Delta-8 THC is a cannabinoid found in both hemp and marijuana plants. It is reportedly a less powerful form of delta-9 THC, which is why it is thought to produce a less intense psychoactive effect.
Delta-8 THC is converted from delta-9 THC naturally in cannabis plants, but it can also be synthesized in a laboratory setting from CBD. Most of the delta-8 THC products found on the market these days are made using CBD converted in a lab.
The process to make delta-8 is one of the primary reasons for the grey area surrounding its legality. According to the 2018 Farm Bill, products made from hemp plants with 0.3% or less delta-9 THC are legal to produce and distribute in the United States.
Because most delta-8 products are made using converted CBD, they are considered federally legal. But there are some states that have taken action on regulating or banning delta-8 THC already.
Which States Have Banned Delta-8 THC?
Currently, there are a number of states that have banned delta-8 THC or placed restrictions on its sale and distribution. In most of these states, it is considered a controlled substance and is illegal to possess, manufacture, or distribute.
States Where Delta-8 THC is Considered Illegal 
Alaska
Delaware
Idaho
Iowa
Montana
New York
Nevada
North Dakota
Oregon
Rhode Island
Vermont
Utah
Washington
States Where Delta-8 THC's Legality is Unclear or There are Restrictions: 
Arizona
California
Colorado
Minnesota
Mississippi
What Could Future Regulations Look Like?
It is likely that more states will join the list of those that have already banned or started to regulate delta-8 THC. As states continue to consider changes to their cannabis laws, regulations regarding delta-8 THC may become more strict. These regulations could include restrictions on dosage, possession limits, and rules for purchase and possession.
On the other hand, it is also possible that delta-8 THC could be legalized specifically on a federal level in the future. The Ninth Circuit Court of Appeals released an update to the 2018 Farm Bill that delta-8 was included in all hemp products and hemp derivates cleared for legal production and distribution. This was a first big step in clearing a path for delta-8 to leave the legal grey area, but it's not in the clear yet.
Key Takeaways on Which States Banned Delta-8 THC
Delta-8 THC is a cannabinoid found in the cannabis plants that is being explored as a potential treatment for various conditions. Some users of delta-8 THC have reported milder effects than its cousin delta-9 THC.
However, several states have already banned delta-8 THC or placed restrictions on it. It is always a good idea to double check your state's most recent legislation regarding delta-8 THC before giving it a go. One of the best places to keep up to date on all things delta-8 THC, when it comes to legality or the best products on the market, is through Real Tested CBD.
From independent lab test results and transparent product and brand reviews, you can find everything you need to know about quality delta-8 THC products. You can also keep up to date on the most recent legality information, where to shop and the potential effects of delta-8 THC.
Check out the Real Tested CBD Delta-8 THC Resource Center for a great place to start learning more about delta-8 THC and if it's legal in your state.
Most Recent Tested products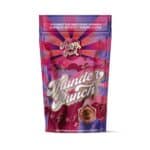 Happy Fruit Hemp HHC Gummies - Thunder Punch
$20.00
Cannacea Tagrid's 100 Full-Spectrum Hemp Oil
$77.50
Cannacea Activated 40 Full-Spectrum Hemp Oil
$38.50
Recent Posts
Blog Categories