[wpsm_stickypanel][contents h2][/wpsm_stickypanel]
When you buy a CBD product, you expect it to include the amount of CBD it advertises on the package. The last thing you want is to buy a product that is filled with harmful chemicals, pesticides and insecticides. Unfortunately, there are some products available today that contain dangerous pesticides and solvents. At Real Tested CBD, we test every product so that you know exactly what you are getting. During our tests, the following list of products ended up failing because they contained harmful pesticides or solvents.
This product comes in a capsule form from hemp grown at Lazarus Farms. After the plants are harvested, CBD is extracted from them using an ethanol-based process. While the classic version is free of flavors and additives, there are also versions that come with flavors like French vanilla, mocha, and chocolate mint.
Unfortunately, this product failed our tests for pesticides because it contained chlorfenapyr. In Pakistan, 31 people died in April 2016 from chlorfenapyr poisoning. In 2000, the United States Environmental Protection Agency (EPA) denied the pesticide's registration for use on cotton because the pesticide was toxic to birds. It was still allowed for other non-food crops. While it was originally designed to kill insects, it turns out that it is also toxic to mammals, aquatic life, and humans.
This CBD product is supposed to contain 750 milligrams of CBD in the entire package, but it only contains 603.79 milligrams. Other than CBD, it also includes calcium, turmeric root, and white willow bark. In theory, the product is supposed to be a healthy part of your daily routine.
Like the other products on this list, the problem with Real Scientific Hemp Oil is that it contains a harmful pesticide known as daminozide. Sold under names like B 995, Kylar, and Alar, this pesticide is a plant growth regulator. This means it is supposed to regulate fruit growth and make harvesting fruit easier.
Originally, daminozide was used in the United States in the 1960s on apples. In 1989, the manufacturer stopped producing daminozide after the EPA proposed a ban on it because of cancer risks. At the time, the EPA made it illegal to use this pesticide on any food crops. In a 1989 report, the Natural Resources Defense Council (NRDC) released a report that showed how children were experiencing an intolerable risk because of lethal chemicals like daminozide. Because of the prevalence of these pesticides in food products, the average student in preschool had 240 times the cancer risk than they normally have after a lifetime of exposure. In theory, daminozide could be safely and legally used on non-food crops. While it is legal to manufacture it, the EPA considers daminozide a probable carcinogen.
This hemp product is produced from hemp grown in Colorado by the brand Populum. The oil is designed to have an orange flavor, and it uses a full spectrum of cannabinoids. Because it has a full spectrum of cannabinoids, this product goes through less refinement and extraction than some CBD products do.
The lack of refinement may be one of the reasons why a pesticide known as chlorpyrifos (CPS) is still present in this hemp product. CPS is a pesticide used on animals and crops to kills worms and insects. It does this by acting on the nervous system of pests. The World Health Organization (WHO) states that CPS is moderately hazardous to humans because of its acute toxicity. Depending on your exposure level, this pesticide may cause autoimmune disorders, neurological effects, or developmental disorders. Because of these effects, CPS was banned for home use in the United States. The EPA was ordered to ban all use of CPS in 2018, but the Trump administration appealed the court's decision.
This product is supposed to include 1,500 milligrams of CBD. Instead of containing this amount, the product has just 1,156.82 milligrams of CBD. While CBDMD Premium CBD Oil is advertised as a non-GMO, gluten-free, and vegan product, it failed its laboratory test because of its pesticide levels. Like the Real Scientific Hemp Oil product, it had high levels of daminozide.
While the orange flavor is refreshing, there are downsides to using the CBD Isolate Tincture by Dixie. Like many CBD products, this one was sold as a tincture. Unfortunately, high levels of pesticides mean that this CBD tincture failed its laboratory tests. Like Populum's hemp oil, it tested positive for the dangerous pesticide known as CPS.
This product may sound like it was designed for deep, calming benefits, but it is not worth your money. CBDFX designed this topical product for treating conditions like joint, muscle, and arthritis pain. Unfortunately, this balm contains a pesticide known as coumaphos.
Normally, coumaphos is used to kill mites and insects. This fat-soluble product is used on farm animals and domestic animals as a flea and tick treatment. In honey bee colonies, it is used to treat Varroa mites. Over the years, this insecticide has become less popular because scientists have learned about its residual toxicity effects. In Australia, people are no longer allowed to use this product on pets. In the United States, it is considered an extremely hazardous substance. Because this insecticide is stored in your fat, it can continue to build up over time.
Like the previous product, this topical from Receptra failed its pesticide test because of coumaphos levels. Originally, Receptra made this topical to help people recover from irritation, swelling, and inflammation. The topical is designed with jojoba, arnica, jasmine, ylang-ylang, mango butter, and coconut oil. Unfortunately, the presence of coumaphos makes Receptra's topical product too dangerous to use safely.
This topical has a similar composition to the previous one and was also made by Receptra. The main difference is that this topical is not supposed to have any THC. Unfortunately, this product contains 5.4 milligrams of THC. If you use this product, you could end up failing a drug test. In addition, this product includes coumaphos, which means it is harmful to your health.
Like several other products on this list, this topical salve contains the pesticide coumaphos. While Infinite CBD Freezing Point CBD Topical Salve is supposed to contain 500 milligrams of CBD, it only contains 436.02 milligrams. Because of this product's pesticide levels, we recommend you avoid it.
Interestingly, Dew Drops is not on this list because of a problem with pesticides. Dew Drops has the dubious distinction of being the only product we tested that failed our solvent test. The product is almost entirely made out of ethanol, which is commonly known as grain alcohol.
Other than being a carcinogen, ethanol can also cause coma and death in severe cases. When you mix CBD and ethanol together, the two products amplify each other's effects. Even if you think you are taking a low dose, you can end up becoming sleepy and sedated. For some people, this sedative effect can be extremely strong. Grain alcohol can cause brain damage because it is a neurotoxin. It is also a nervous system depressant.
Since you cannot predict how the two chemicals may play off of each other, it is dangerous to consume them at the same time. While the other products on this list failed because of their pesticide risks, this one is the only one that failed because of solvents. There are many CBD products that do not contain pesticides or solvents, so stick to safe, healthy alternatives instead of using the options on this list.
Most Recent Tested products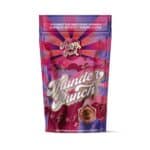 Happy Fruit Hemp HHC Gummies - Thunder Punch
$20.00
Cannacea Tagrid's 100 Full-Spectrum Hemp Oil
$77.50
Cannacea Activated 40 Full-Spectrum Hemp Oil
$38.50
Recent Posts
Blog Categories