Delta-8 THC has skyrocketed in popularity this past year. Since it is one of the newest natural compounds found to be produced from the hemp plant, it seems that new delta-8 products are popping up every day. Edibles, vapes, and oils are just a few of the options delta-8 consumers can choose from.
But how do you know which products are safe and reliable? As with any consumable product, delta-8 customers should be vigilant about unexpected or potentially harmful ingredients. Of course, finding a trustworthy product is the key to having a safe and enjoyable experience. If you are looking for a place to start your delta-8 journey, read on to see which products ranked at the top of our list this year.
What Is Delta-8 THC?
Delta-8 is a cannabinoid, meaning that it is a natural compound present in hemp and cannabis plants. However, it is naturally found in relatively small amounts. This means that most delta-8 products on the market are made with CBD that is processed in a lab to produce delta-8.
Because delta-8 is an isomer of "traditional" delta-9 THC, the two share some similarities even though they have different molecular structures. When consumed, it is believed that delta-8 and delta-9 produce similar effects, with the former being milder and sometimes more relaxing than the latter.
Many users report that delta-8 produces a less intense version of the calming, relaxing, and euphoric effects produced by delta-9 THC. If you are looking for something stronger than CBD but milder than delta-9, delta-8 products could be for you.
What's The Big Deal With Third-Party Lab Testing?
In order to rank on our Best Of 2022 lists, products are examined for not only their ingredients, but their overall quality. The best way to make sure any delta-8 product you are considering is legit and of the highest quality is to turn to third-party lab test results. Unbiased third-party lab tests give you a clear, objective look at what is inside a product.
Whether it be unwanted solvents or pesticides or what cannabinoids are present and in what amount, third-party lab results are the best way to gain some transparency about any cannabinoid-based product. This is especially useful if you are looking for a product that contains certain cannabinoids or a specific dosage of delta-8.
Top Three Lab Tested Delta-8 Products
Below are three of the highest quality, lab tested delta-8 products from this year. If you are looking for a place to start with delta-8, consider giving any of these options a try:
Happy Fruit Delta-8 Lifted Lemonade Gummies– Coming in first are Happy Fruit's Delta-8 Lifted Lemonade Gummies. Not only do these gummies taste great, but they are packed with a whopping 300 mg of delta-8 THC, as well as over 40 mg of legal delta-9 THC, and almost 25 mg of THCV.
Plain Jane Delta-8 THC Hemp Cigarettes– Up next are the Delta-8 THC Hemp Cigarettes from Plain Jane. They contain not only 350 mg of delta-8 THC, but also over 150 mg of delta-9 THC, over 1,200 mg of CBD, and over 800 mg of CBG! At $0.11/mg of delta-8 and $0.01/mg of CBD, they are also extremely affordable.
Nuleaf Naturals Full-Spectrum Delta-8 THC Capsules– In third are the Full-Spectrum Delta-8 THC Capsules from Nuleaf Naturals. These capsules test accurately to the label claim of 450 mg of Delta-8 and, true to the nature of a full-spectrum product, contain every cannabinoid that we test for.
Check Out Our Delta-8 Resource Center!
If you're looking to give delta-8 a shot, you should always take the safe route and turn to third-party lab test results. By knowing exactly what is in the products you are consuming, you'll never have to question their quality again.
You can also visit the Delta-8 Resource Center on our website to view lab test results on a plethora of delta-8 products. Additionally, you can use our delta-8 finder to find a delta-8 retailer near you!
Most Recent Tested products
Cannacea Tagrid's 100 Full-Spectrum Hemp Oil
$77.50
Cannacea Activated 40 Full-Spectrum Hemp Oil
$38.50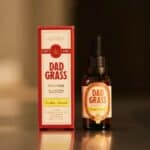 Dad Grass Goodtime Formula + CBG Tincture
$55.25
Recent Posts
Blog Categories