Anyone "in the weeds" on US cannabis policy may have noticed a new proposal steadily moving through the Houses of Congress. Technically, two cannabis-related bills are currently working through the Senate and the House of Representatives.
The first is the "Cannabidiol and Marihuana Research Expansion Act" (aka S.253), which passed the Senate at the end of March. More recently, the House of Representatives passed House Bill 5657, or the "Medical Marijuana Research Act." Both of these proposed laws say the same things, and it's expected lawmakers will merge them in the upcoming months.
But how does this new law change the current landscape for hemp and marijuana? Will recreational weed be legal in all 50 states? Does this have anything to do with delta-8 THC?
If you look at each act's name, they're primarily focused on the "research" aspect of CBD and THC. Although this law won't legalize recreational cannabis, it may have significant ramifications for doctors and patients.
What Will The US CBD and Marihuana Research Expansion Act Do?
It's essential to note that S.253 and HB 5657 will not change marijuana's federal status. These new proposals will also keep the 2018 US Farm Bill in tact. That means the legal definition of hemp will remain any Cannabis sativa cultivar that has ≤ 0.3 percent delta-9 THC.
So, what would happen if one of these bills became US law? Basically, it will make it easier for doctors, scientists, and patients to access hemp and marijuana extracts. This new law would loosen the restrictions on licensed farmers and universities growing THC-containing marijuana for research purposes. It would also provide greater leniency for registered physicians who want to discuss medicinal marijuana with their patients.
Senators also pointed out this new proposal would encourage the FDA to look into the therapeutic potential of marijuana and hemp. The increased protections S.253 provides will create a more hospitable environment for scientists interested in exploring cannabinoid research.
It's also worth mentioning the House of Representatives passed the MORE Act in early April of 2022. This more radical proposal would take marijuana off the DEA's list of controlled substances. However, most political analysts don't believe there's enough support in the Senate or the White House to make this proposal law this year.
Despite Increased Cannabis Acceptance, Please Insist On Third-Party Lab Tests!
Although laws like S.253 bring much-needed clarity to the CBD and cannabis markets, they won't significantly change the hemp market's transparency issue. Currently, every state has slightly different ways of figuring out the legality of their hemp-derived goods. Also, there's no federal oversight into the hundreds of CBD and delta-8 products flooding the public market.
To protect yourself as a consumer, please always ask for third-party lab tests when ordering CBD or delta-8 goods. Reputable hemp companies know they need to invest in these tests to clearly show their products are clean and legal. Honestly, businesses that refuse to get third-party lab tests are probably selling inferior products.
Please don't forget that Real Tested CBD collects data on all major CBD and delta-8 brands. Our unbiased test results are freely available online, so please use all our resources while shopping.
Most Recent Tested products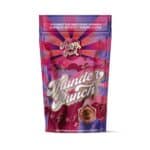 Happy Fruit Hemp HHC Gummies - Thunder Punch
$20.00
Cannacea Tagrid's 100 Full-Spectrum Hemp Oil
$77.50
Recent Posts
Blog Categories