Paying for cannabis products can be a pain nowadays. Since marijuana remains an illegal substance, the world's largest card providers block most dispensaries in states with recreational or medical marijuana laws. Given weed's controversial status in the payment processing space, it's no wonder many hemp fans express concerns over paying for CBD with credit cards.
After all, CBD hemp is a member of the cannabis family. Therefore, some people assume it's illegal to buy CBD products with a Visa, Mastercard, or AMEX card. So, will buying CBD oils with a credit card get customers in trouble?
Can Customers Use Major Credit Cards To Buy CBD Oil?
Although hemp is a member of the cannabis family, it doesn't have the same legal status as THC-containing marijuana. Under federal law, hemp products with ≤ 0.3 percent delta-9 THC are OK to sell in the USA. It's only high-THC marijuana flowers that the US government still has issues with.
Since the 2018 US Farm Bill gave hemp-derived goods the "all clear," major credit card processors don't have an issue with CBD-containing products. As long as you're dealing with a reputable hemp business that submits third-party lab tests, they'll have no problems processing standard credit or debit card payments.
However, every hemp shop may have unique payment policies, especially if they're dabbling in the legal marijuana market. Please always double-check which payment services your CBD company offers for more specific details.
What About Using Cards To Pay For Other Cannabis Products?
Paying for CBD is relatively straightforward. Sure, there could be a few snags with card transactions in cannabis-restrictive states, but most businesses don't report an issue processing card payments for hemp-derived CBD goods.
However, many legal dispensaries have reported payment issues with prominent card providers like Visa and Mastercard. Since marijuana remains a "Schedule I" substance, big card providers have issues dealing in this industry. Even if you're in a state with recreationally legal laws, you may not be able to use your card to make a pot purchase.
Even though delta-8 THC isn't technically in the "marijuana" bracket, it has faced local scrutiny in the past few years. Therefore, you shouldn't be surprised if shops can't process cards for this prevalent psychoactive cannabinoid.
Although it's less common for cannabis dispensaries to accept cards, some services and technologies may make card payment processing possible. Indeed, many "high-risk" processing partners work with the cannabis industry to accept credit and debit cards.
If a cannabis company can't accept cards for some reason, they'll usually offer a few alternative payment options to customers. It's become common for many brick-and-mortar dispensaries to have an ATM on-site for easy cash payments. Many dispensaries are also willing to accept big-cap cryptocurrencies like Bitcoin or Ether.
Customers struggling to pay with their card for a cannabis-related product should review the company's payment guidelines or call a team member. You may also want to research your card provider's CBD hemp and cannabis policies to fully understand special payment restrictions.
Before Swiping Your Card, Scroll Through Real Tested CBD's Reviews!
It's getting easier for customers to use their preferred credit or debit card to purchase countless CBD oils, topicals, and edibles. However, please don't forget to take some time to research various CBD companies before shopping for "CBD near me." Many unprofessional hemp shops would love to take your card payment and send you low-quality CBD oils.
Real Tested CBD screens hundreds of hemp-derived delta-8 and CBD products to help you find items that fit your expectations. Please take advantage of the lab reports on our site before trading your hard-earned dollars for hemp.
Most Recent Tested products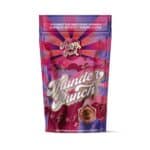 Happy Fruit Hemp HHC Gummies - Thunder Punch
$20.00
Cannacea Tagrid's 100 Full-Spectrum Hemp Oil
$77.50
Cannacea Activated 40 Full-Spectrum Hemp Oil
$38.50
Recent Posts
Blog Categories