An Indiana federal district court just sided with E&B Paving in a case regarding the termination of an employee who used CBD. On April 1st, 2022, the local court ruled that there wasn't enough evidence to support John Rocchio's claim that E&B disobeyed the Americans with Disabilities Act (ADA)—even though he claims he only used CBD oil.
You may be wondering why Rocchio decided to invoke the ADA. To be honest, this case can get a bit complicated. However, it's well worth reviewing these details if you use CBD oil while on the job.
What Are the Key Facts Of Rocchio v. E&B Paving, LLC
John Rocchio worked for E&B Paving until he failed to pass a randomized drug test. This test was designed to pick up marijuana particles, and it showed Rocchio had some cannabis-related metabolites in his system.
Even though Rocchio claimed he was only using CBD oil, E&B has a zero-tolerance policy for drug use on the job. Soon after the test results came in, Rocchio received a termination notice from the company.
In February of 2020, Rocchio filed a lawsuit against E&B Paving for this action. Interestingly, Rocchio's defense centered around an ADA violation. In brief, his argument stated that the ADA doesn't allow employers to test for legal substances. Since Rocchio was taking a legal supplement (i.e., hemp-derived CBD), E&B Paving wasn't abiding by the ADA's explicit law to only test for illegal substances.
Since Rocchio chose to pursue this argument, he also had to prove he was legally disabled and that E&B discriminated against him. Rocchio's legal team also argued that firing people who test positive for various substances "categorically regards them" as people who use illicit drugs and people with an "impairment," even when chemicals in question are legal.
The court that heard this case didn't agree with Rocchio's claim of impairment or that there was anything wrong with E&B's testing procedures. Even though the ADA doesn't explicitly mention testing for legal substances, that didn't provide Rocchio enough protection. Also, the court noted that E&B used standard procedures and marijuana tests. Even though Rocchio claimed he used CBD oil, he didn't win this case.
Does This Many CBD Oil Is Always Unsafe In The Workplace?
For some employers, it doesn't matter that hemp-derived CBD oil is legal under the 2018 US Farm Bill. If companies have a zero-tolerance policy for cannabis, employees need to be extra cautious about using hemp-derived products like CBD oil.
True, the case above took place in a state with restrictive laws for cannabis. If Rocchio filed his lawsuit in Colorado or Nevada, the court might have been more lenient towards employees who only took CBD.
However, customers must know that CBD oil can interfere with standard cannabis drug trials. This is especially true if people use full-spectrum CBD oils, which could have ≤ 0.3 percent delta-9 THC. Scientists don't know the nuances of THC absorption, but it appears this cannabinoid has a long half-life.
People who want to use CBD oil while working should focus their attention on products with zero THC content. For instance, it's far less likely CBD isolate powder will appear on cannabis drug tests because this product should have 99 percent CBD. Broad-spectrum CBD should also have zero percent delta-9 THC, but it could have similar secondary cannabinoids like delta-8 THC.
Please be sure to review the cannabis laws in your state and the drug policies at your place of employment. You should also check your hemp products come with third-party lab testing that proves there's zero THC exposure. For more detailed information on differentiating full-spectrum, broad-spectrum, and CBD isolate, please check out this previous Real Tested CBD post.
Most Recent Tested products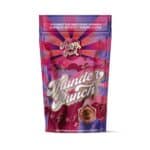 Happy Fruit Hemp HHC Gummies - Thunder Punch
$20.00
Cannacea Tagrid's 100 Full-Spectrum Hemp Oil
$77.50
Cannacea Activated 40 Full-Spectrum Hemp Oil
$38.50
Recent Posts
Blog Categories