We at Real Tested CBD have been keeping our ears to the ground for decades to get the best updates from the CBD sector. The goal is to bring you the news on the on-going innovations and review the most exciting new and existing CBD-based products.
We have reviewed over 80 best known CBD brands and their products in full details. We put these products through rigorous lab tests to bring you a report on what the labels claim and what the product actually is.
Today, we shed our brand spotlight on "Kat's Naturals." The brand claims to produce CBD products to help nourish the body and mind of CBD users. Kat Merrifield is the founder of the company who is an educated nutritionist and herbalist with decades of experience under her belt.
Kat has been making natural farm-to-home products to develop soothing CBD-based remedies. Kat's Natural uses only organic hemp plants, homegrown within the United States. All the ingredients, such as essential oils and therapeutic characteristics of a hemp plant, are absorbed and transferred to the customers.
The brand claims to produce the most organic and healthy CBD products available in the market. Kat's Naturals offer products from drops to cream in conveniently sized packs to fit the medicine cabinets, purses, and bags of CBD users.
However, the company does so with care, without compromising on the quality of the packing and effectiveness of the product. Kat's Naturals brand claims to have also worked tirelessly with US veterans and their loved ones to improve the quality of their lives.
According to Kat's Natural claims, they are passionate about bringing change in how the market perceives CBD products. So they are enthusiastic about introducing CBD products that can offer natural remedies to their customers with all the health benefits associated with CBD and hemp-plant extract.
We reviewed two of Kat's Naturals products, and here is the verdict by our lab test experts.
Kat's Naturals Organic CBD Balance CBD Oil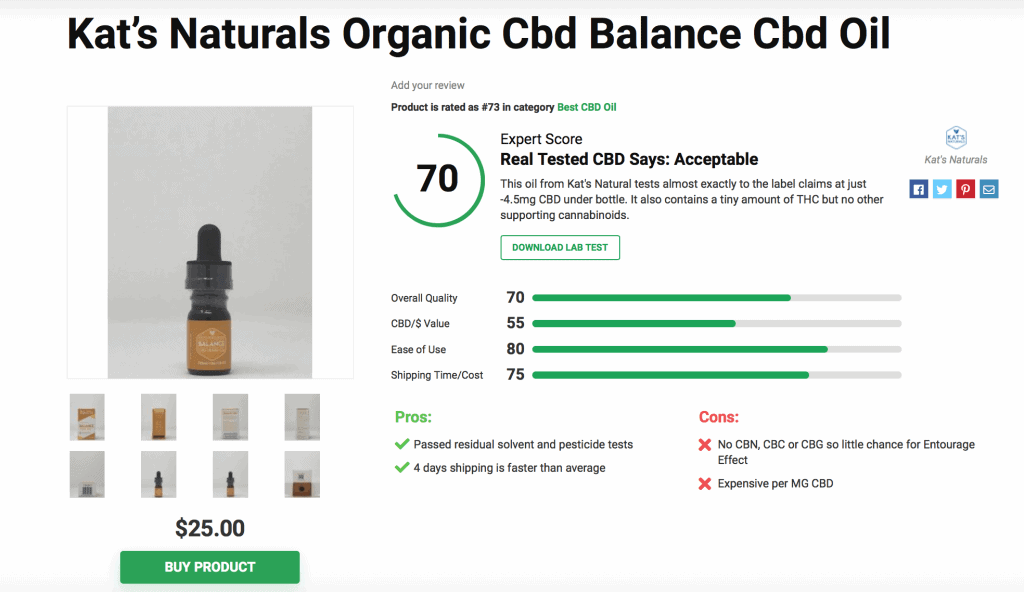 This organic CBD balance oil by Kat's Naturals comes in a bottle with a dropper. The product's label claims to contain 750 mg CBD per OZ. Kat's Natural mentioned on the label that this CBD-based oil comes from a full-spectrum hemp-extract and offers the goodness of organic CBD.
The bottle contains ultra-concentrated sublingual drops, and you can get it in trial size as well. It is a great way to try the product before deciding if it is for you. Each bottle of this organic CBD oil contains 100 full-spectrum drops, with each drop delivering 1.25 mg of CBD, and 1ml contains 25 mg of CBD quantity.
The product label claims the brand produces oil using critical CO2 extracted CBD from organic hemp grown in the United States. Kat's Naturals also claim that it has not used any added sweeteners or artificial flavoring during the making of this product.
Plus, the CBD oil is gluten-free and a non-GMO product. Some of the ingredients in the mix include organic MCT oil with medium-chain triglyceride and sustainably sourced organic peppermint essential oils with traces of coconut.
The label also claims that this oil contains terpenes, CBD, CBDA, CBCA, CBGA, THC, CBC, and CBG. However, our lab test results could not find any traces of these rare cannabinoids except a tiny quantity of THC at 1.1055 mg per bottle.
The CBD levels are almost identical to the label's claim at 120.5 mg per pack, and we did not find any traces of pesticides and solvents.
Kat's Naturals Organic CBD Relax CBD Oil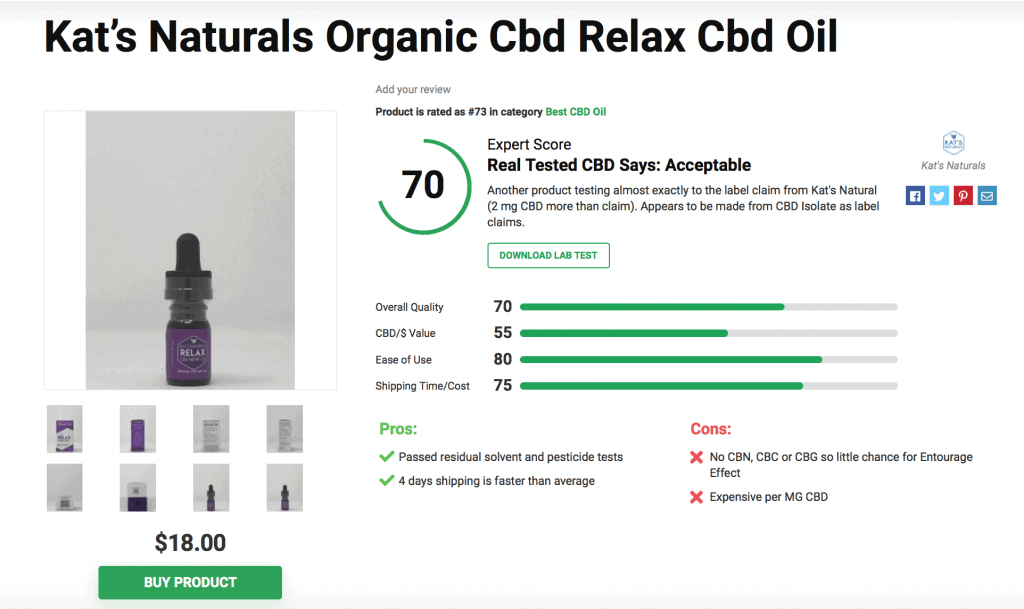 This Organic CBD hemp oil by Kat's Natural contains 300 mg CBD per ounce. It also comes in trial size, and the company claims the oil has ultra-concentrated sublingual drops that contain organic CBD.
The product is non-GMO and gluten-free, and Kat's Naturals states that it does not use any artificial flavors or added sweetness in this product. The ingredients include USA grown hemp extract and wild orange essential oil.
The oil contains an almost identical quantity of CBD, as claimed by the label at 52.66 mg per bottle, but we did not find any traces of any rare and beneficial cannabinoids such as THC, CBC, CBG, and CBN in the mix.
The good news is the product passed our test for safety as it is free of any traces of harmful pesticides and solvents.
Most Recent Tested products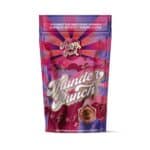 Happy Fruit Hemp HHC Gummies - Thunder Punch
$20.00
Cannacea Tagrid's 100 Full-Spectrum Hemp Oil
$77.50
Recent Posts
Blog Categories