If you are looking to buy CBD online, you have come to the right place. The rise of the CBD market is here to stay, with an abundance of products and brands available just about everywhere you look. Here at Real Tested CBD, we conduct independent lab tests so you can take the guesswork out of finding a high quality online.
CBD, also known as cannabidiol, is one of many natural compounds found in hemp and cannabis plants. Known for its potentially therapeutic properties, CBD has taken the health and wellness worlds by storm. CBD is thought to directly with human body's endocannabinoid system, or ECS, to potentially aid in a variety of ailments from inflammation and pain management, to anxiety and better sleep.
To ensure you make an effective and informed CBD purchase that is worth the money, turning to third-party lab test results is your best bet. We test for purity, potency and quality so you can make sure you are getting exactly what you need out of your CBD. From topicals to oils and pet treats to beauty and cosmetics, we provide you with an accurate review of label claims and pesticide and solvent tests results. Today we bring you two different products from 'PureKana CBD':
"Our mission is to lead the industry in bringing high-quality hemp cannabidiol (CBD) based products to the marketplace. We strive to educate the world on the benefits of hemp extract, and it is our goal to offer the industry's highest quality, most trusted products." – PureKana CBD
PureKana CBD – Real Tested CBD Review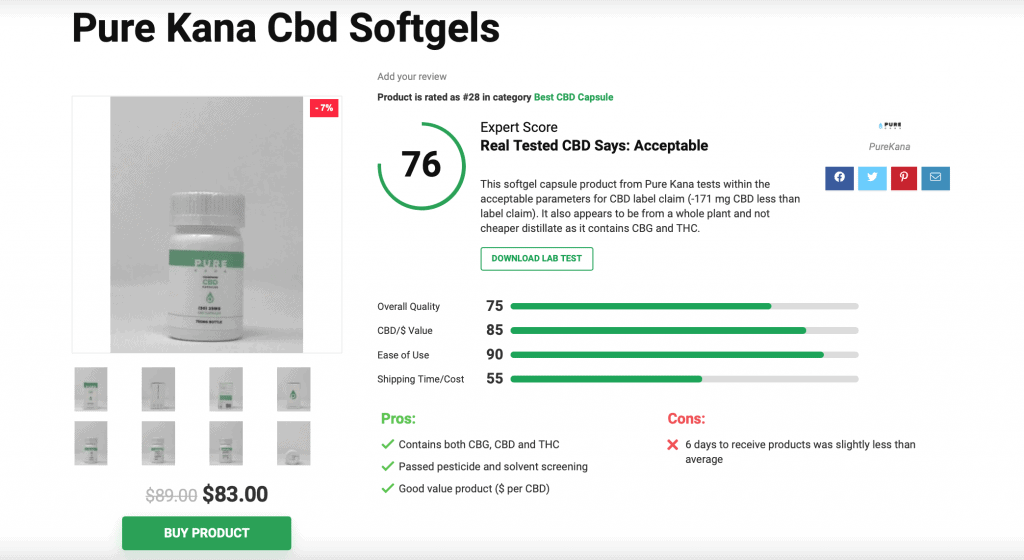 First up from PureKana CBD are their soft-gel CBD capsules in a 750mg bottle, with each capsule claiming to contain 25mg of CBD. These CBD capsules received an acceptable recommendation from our experts, mostly due to the bit of CBD missing from the bottle. The label claims 750mg per bottle, but when tested we found 578mg of CBD. These capsules are a whole hemp extract product, containing some of the rare cannabinoids we like to see including THC and CBG. These capsules passed all solvent and pesticide tests with flying colors and offer a good value to customers, costing just around $0.14 per milligram of CBD. If you are looking for a CBD soft-gel capsule that contains rare cannabinoids and a middle-ground dose of CBD, this could be a great choice for you. See how these capsules compare to other CBD capsules we have reviewed right here.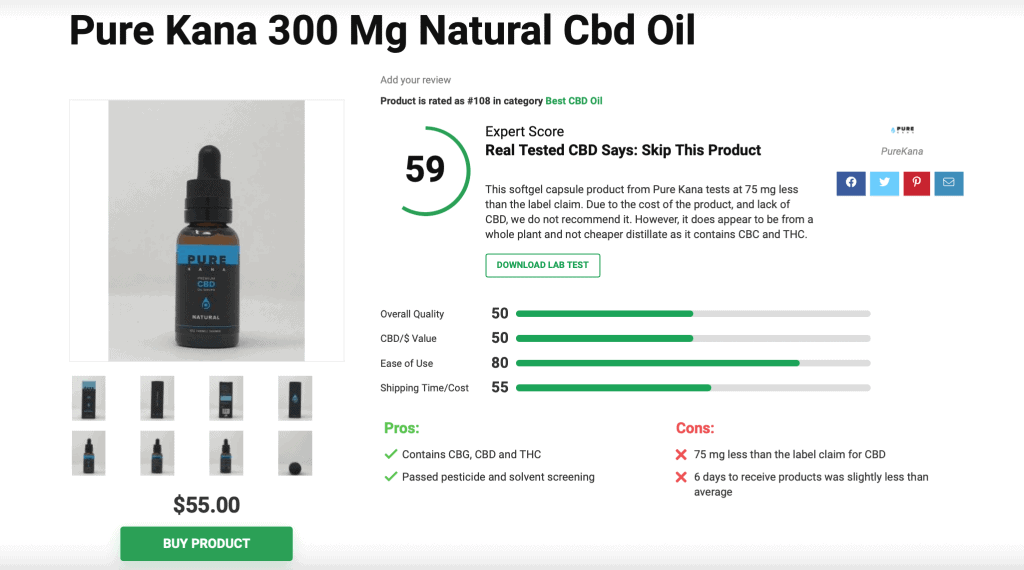 Next, we bring you PureKana's 300mg Natural CBD Oil. This CBD oil was not our favorite product from PureKana CBD, mostly based on CBD missing and the somewhat high price point for the milligram amount. This CBD oil is states 300mg per package but actually contains 224mg. Similarly, this CBD oil costs $0.24 per milligram of CBD and $5.34 per milligram of THC, which is pretty high. This CBD oil does contain some of the rare cannabinoids we like to see, including THC and CBC. See how this CBD oil compares to our other reviewed CBD oils, right here.
PureKana CBD – Real Tested CBD Takeaways
Finding the best product in a large and ever-growing market can be overwhelming, but that's why Real Tested CBD is here for you. We take the guesswork out of finding a reliable and legit source of CBD. Always turn to third-party lab test results and completely unbiased reviews to find exactly what you are looking for. When it comes to 'PureKana' and their CBD products, we recommend them as a fairly reliable source with safe-to-use products. See how PureKana CBD compares to some of the other brands we have tested by checking out our other Brand Spotlight Reviews and all of our 'Best Of' CBD Categories.
Most Recent Tested products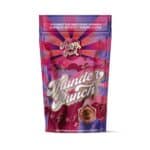 Happy Fruit Hemp HHC Gummies - Thunder Punch
$20.00
Cannacea Tagrid's 100 Full-Spectrum Hemp Oil
$77.50
Cannacea Activated 40 Full-Spectrum Hemp Oil
$38.50
Recent Posts
Blog Categories