If you are looking to buy CBD online, you have come to the right place. The rise of the CBD market is here to stay, with an abundance of products and brands available just about everywhere you look. Here at Real Tested CBD, we conduct independent lab tests so you can take the guesswork out of finding a high quality online.
CBD, also known as cannabidiol, is one of many natural compounds found in hemp and cannabis plants. Known for its potentially therapeutic properties, CBD has taken the health and wellness worlds by storm. CBD is thought to directly with human body's endocannabinoid system, or ECS, to potentially aid in a variety of ailments from inflammation and pain management, to anxiety and better sleep. To ensure you make an effective and informed CBD purchase that is worth the money, turning to third-party lab test results is your best bet.
We test for purity, potency and quality so you can make sure you are getting exactly what you need out of your CBD. From topicals to oils and pet treats to beauty and cosmetics, we provide you with an accurate review of label claims and pesticide and solvent tests results. Today we bring you a few products from 'Thrive Flower,' and we think you will like what you see:
"We take pride in providing superior quality CBD products to the community. Our CBD products are made using premium Pennsylvania grown hemp that are not only affordable, but effective. We strongly believe in the beneficial use of CBD as a natural, healthy, and better wellness solution. That's why all our products are 3rd party tested by the best labs the United States has to offer. "– Thrive Flower
Thrive Flower – Real Tested CBD Review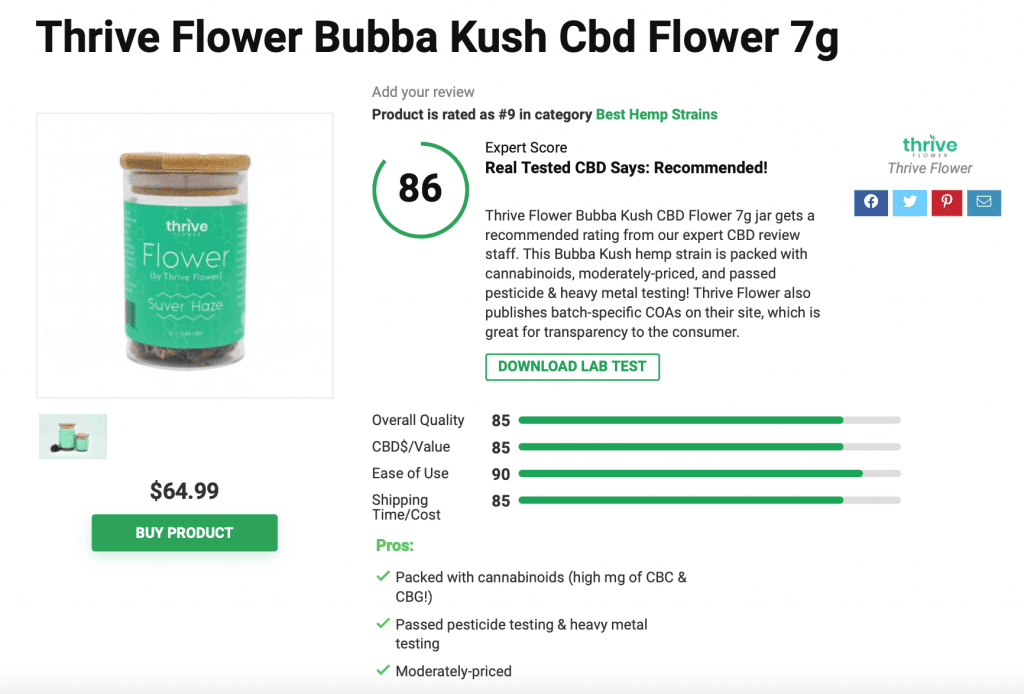 First up from Thrive Flower is their Bubba Kush CBD Flower in a 7g jar. This CBD flower strain gets a recommended review from our expert staff and ranks number ten in our Best Hemp Strains category. Passing all heavy metal and pesticide tests this CBD flower strain scored an 88 out of 100 on our expert scale. This flower is packed with rare cannabinoids and tested slightly over the label claim for CBD. This strain also offers a great value to customers, costing just about $0.08 per milligram of CBD and $1.34 per milligram of THC. If you have no drug testing concerns and are looking for a quality flower, this is a great affordable choice.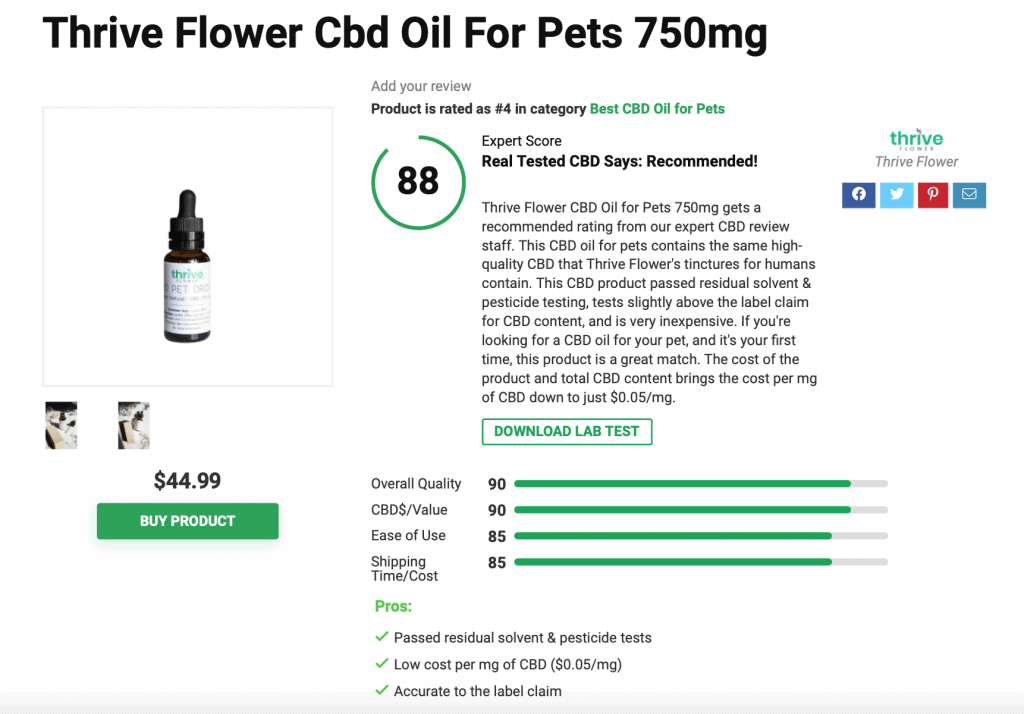 Next, we have Thrive Flower CBD Oil for Pets in 750mg. This oil CBD oil gets a highly recommend from our experts. Ranking fourth in our Best CBD Oil for Pets category, this is a great affordable option if you are looking to add CBD to your pet's routine. This CBD oil tested above the label claim for CBD and has some CBC present, but is free of THC. This oil tested with flying colors on all pesticide and solvent tests and seems to be made with the same high-grade hemp as the human products. Costing just around $0.05 per milligram of CBD, this is a great option for trying CBD for your pet.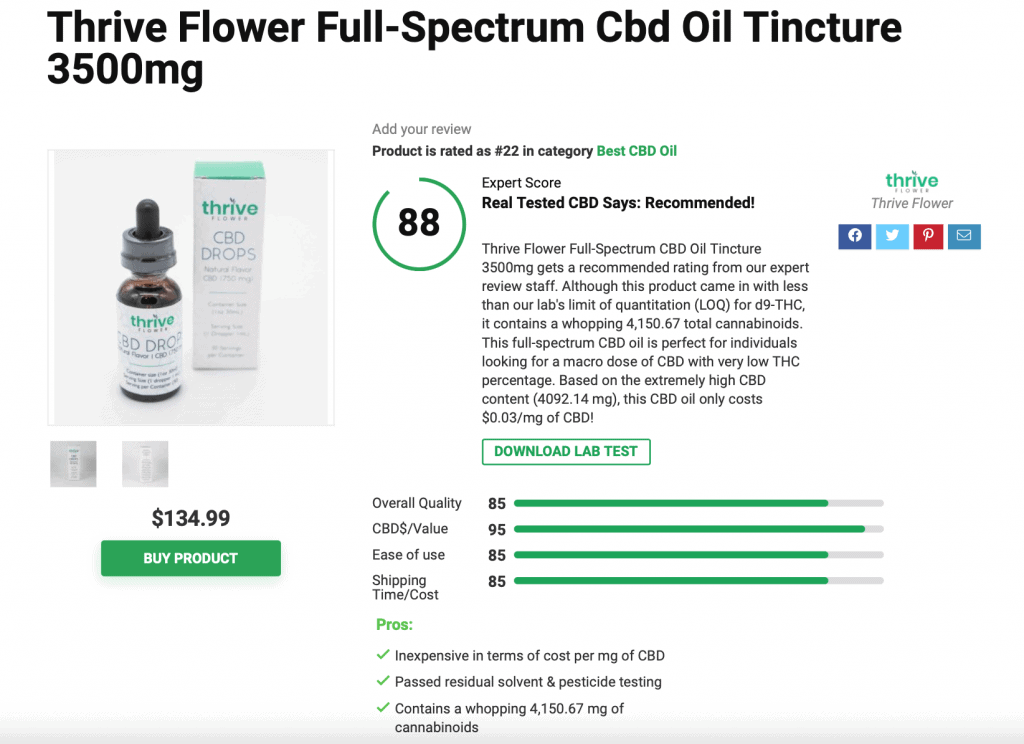 Last but not least, we tested Thrive Flower 3500mg Full-Spectrum CBD Oil Tincture, ranking in the top 20 of our Best CBD Oil category. This oil tested well above the label claim for CBD, containing a whopping 4092mg. Thought this oil did test for CBN and CBC, there doesn't appear to be any presence of THC high enough to measure, or CBG. This CBD oil still received a highly recommended review from our experts despite the rare cannabinoids because it offers a great value to customers, costing just $0.03 per milligram of CBD. If you are looking for a potent CBD oil, this a good choice.
Thrive Flower – Real Tested CBD Takeaways
When it comes to finding CBD online, there are countless options. Knowing where to find honest reviews and transparent lab-test results is key to making a quality purchase. Real Tested CBD makes it easy to find the best CBD products. When it comes to 'Thrive Flower,' we found their products to be of quality and their label claims to be true. We highly recommend 'Thrive Flower' as a great choice for CBD. To check out more Real Tested CBD Reviews, click here.