On lists of the most cannabis-friendly states, Kansas often ends up in last place. Unlike neighboring Colorado, the Sunflower State still views all THC products in line with the DEA (i.e., a Schedule I substance). Even when it comes to hemp CBD, Kansas doesn't accept as many hemp products as other states.
Kansas's status as a restrictive cannabis state was on full display recently as police raided multiple CBD hemp shops. Anyone who enjoys hemp products in Kansas should look at the recent CBD shop seizures in the state's capital.
Why Did Police Raid Topeka Hemp CBD Shops?
At the end of April in 2022, multiple CBD stores in the Topeka metro area reported police raids on their property. According to recent news reports, Shawnee County Drug Enforcement entered numerous hemp shops in the capital and confiscated items containing hemp THC cannabinoids. Specifically, police were looking for products with high delta-8 and delta-10 THC concentrations.
Police officers at Shawnee County say they had search warrants to enter all of these CBD shops and dispensaries. They also claim there's no distinction between delta-9 THC and other THC-related hemp cannabinoids like delta-8 and delta-10.
Current estimates suggest Shawnee County confiscated at least $20,000 worth of hemp-related products. Nobody working at Topeka-area CBD shops was arrested for carrying these THC-related products.
Does This Mean Hemp Is Illegal In Kansas?
Shawnee County's recent actions suggest Kansas takes a tough stance against hemp THC derivatives. However, that doesn't mean CBD is illegal in the Sunflower State. According to House Bill 2167 and Senate Bill 282, there is a difference between illicit marijuana and legal hemp. It's also OK for Kansas farmers to grow industrial hemp with a permit.
But does that mean hemp CBD oil is legal for recreational use? Today, Kansas only allows residents to buy CBD products with zero THC concentrations. The 2018 US Farm Bill allows US manufacturers to sell CBD products with ≤ 0.3 percent delta-9 THC, but products in Kansas should always register "ND" on their THC lab reports.
Although there are no specific laws regarding delta-8 or delta-10 THC in Kansas, law enforcement clearly doesn't distinguish between hemp THC alternatives and delta-9 THC. For the time being, it's best for Kansas vendors and customers to steer clear of anything with "THC" in the name.
Stay Tuned To Real Tested CBD For The Latest Hemp Information
Hemp laws in the USA can change on a dime. Just when you thought a hemp-derived product was legal, you could wake up to a raid the next day. Many CBD shops across the nation have had to deal with police search warrants in the past few months. Even states with a more liberal stance towards cannabis (e.g., New York) aren't immune to search & seizure reports.
Wherever you live in the USA, it's essential to stay up to date on CBD and delta-8 hemp laws and news. For the most accurate & unbiased reporting on all things hemp, stick with Real Tested CBD.
Most Recent Tested products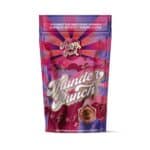 Happy Fruit Hemp HHC Gummies - Thunder Punch
$20.00
Cannacea Tagrid's 100 Full-Spectrum Hemp Oil
$77.50
Cannacea Activated 40 Full-Spectrum Hemp Oil
$38.50
Recent Posts
Blog Categories