We are all always looking for ways to spoil our furry friends. Whether it's a new toy, a fluffy bed, or a tasty treat, giving our pets the very best is what we like to do. So adding a CBD treat to your four-legged friend's daily routine could be a great way to make sure they are staying happy and healthy for a long time to come.
Similar to humans, CBD interacts with the endocannabinoid system and its receptors to create balance and eliminate free-radicals. Although more studies are needed surrounding CBD's benefits, especially for animals, CBD has shown to aid in a range of ailments and conditions from anxiety to pain management to seizures and epilepsy.
Adding CBD treats to your pet's diet could have multiple benefits – if they are suffering from anxiety or stress, aging ailments, or appetite issues – CBD could be a good natural alternative and helpful answer to their conditions. Of course, as with all things we give our beloved animals, the quality of a product needs to be prevalent. Here at Real Tested CBD, we do independent lab testing on a range of CBD products, including CBD pet treats. We take the guesswork out of your CBD purchase, ensuring you are giving your pets a quality treat, with accurate label claims, purity, and potency. Here are our top five CBD pet treats based on lab test results:
Top 5 CBD Pet Treats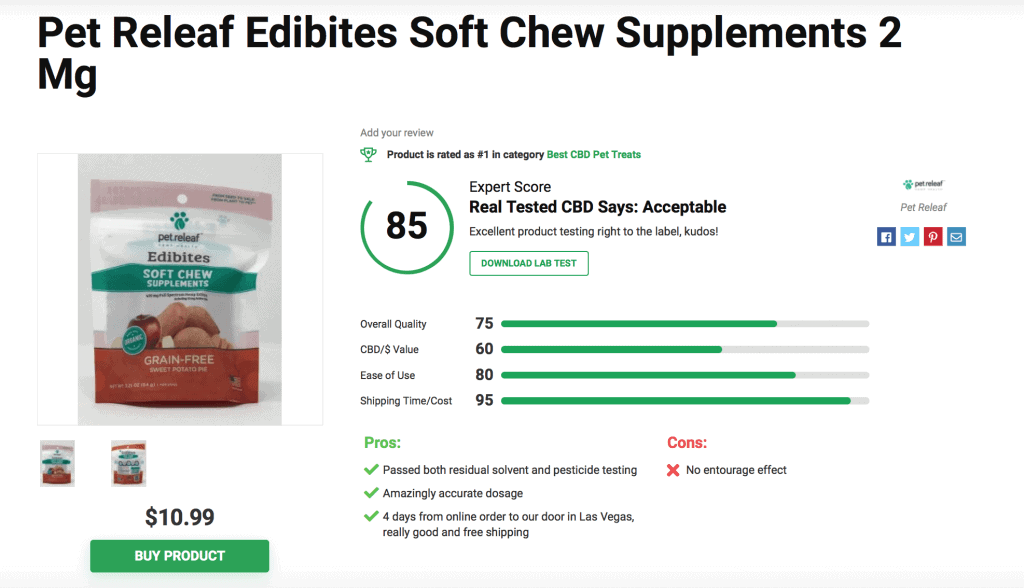 First up we have Pet Releaf Edibites Soft Chews. These grain-free sweet potato treats tested right on the label claim with 23mg of CBD. There are no rare cannabinoids present, so no entourage effect, but overall a high-quality CBD pet treats. These treats also passed all solvent and pesticide tests, making them a solid safe choice for your furry friends.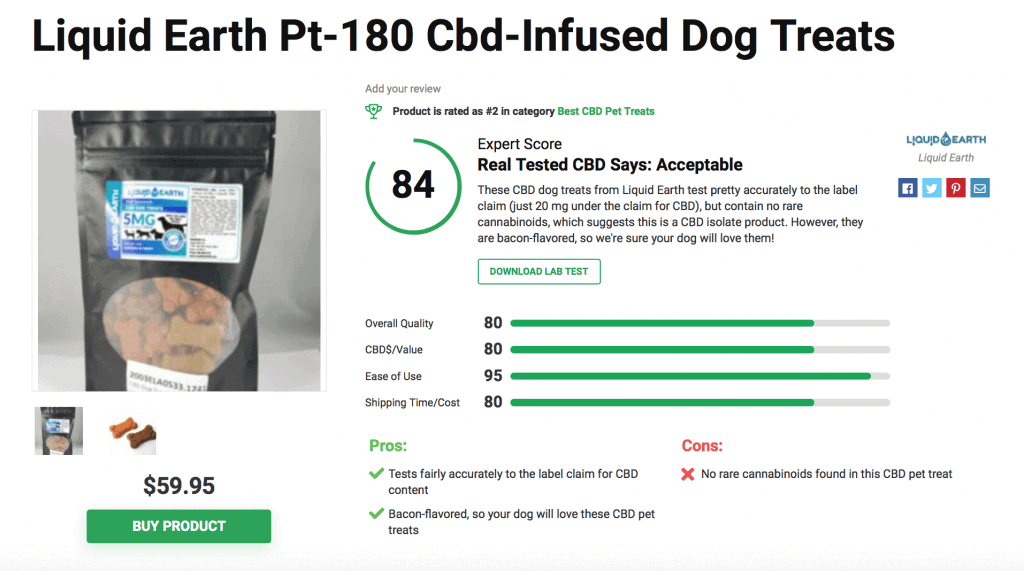 Next, we bring you Liquid Earth CBD Infused Dog Treats. These bacon flavored treats are sure to be a hit with your dog. Testing just below the label claim, but still, with plenty of CBD (159mg), these treats offer a good purchase value of just $0.37 per milligram. Each treat is specially dosed to 5mg so you can choose how much or how little your pup needs.
In third place for Best CBD Pet Treats is Paw CBD Chicken and Catnip Soft Chews. These feline CBD treats actually tested slightly over the label claim with 373mg od CBD. Though there are no rare cannabinoids present and your kitty won't get the entourage effect, this CBD treat costs only $0.09 per active milligram of CBD when broken down – a great choice for CBD cats!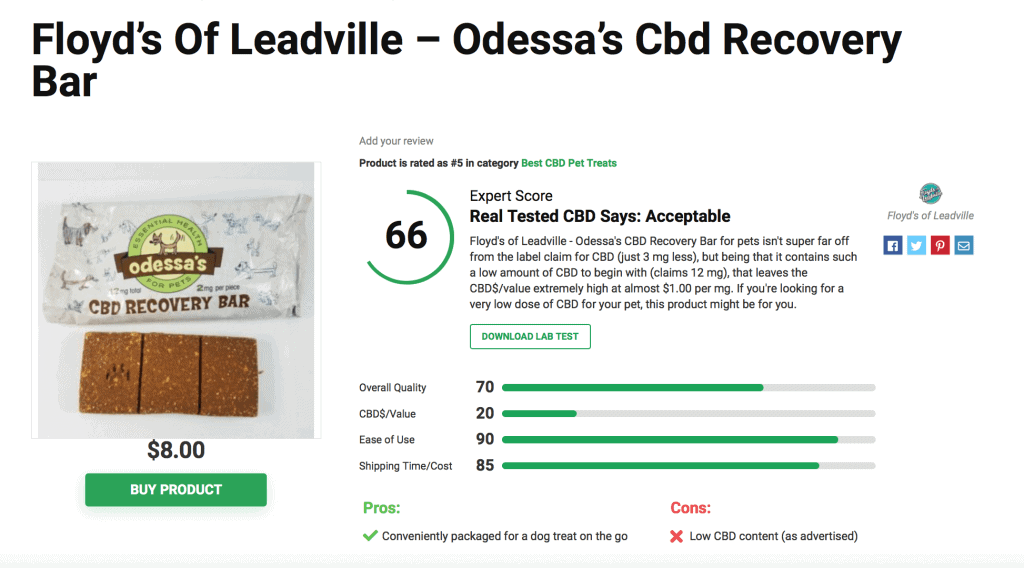 Next up we have Floyd's of Leadville Odessa's CBD Recovery Bar for Pets. This single packaged treat is great for an on-the-go CBD dose. This treat tested pretty accurately to the label claim, which indicated a low CBD dose of 12mg. If you are looking for a low CBD dose for your pet this could be a great choice for you.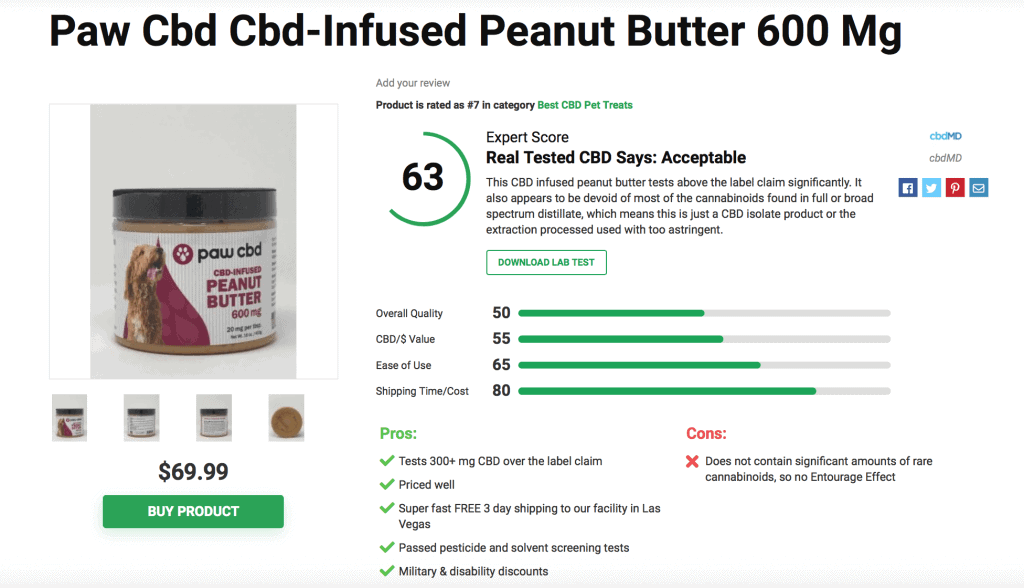 Last but not least is Paw CBD's Infused Peanut Butter. This peanut butter treat tests significantly above the label claim with 950mg of CBD. There are no rare cannabinoids present meaning this is possibly a CBD isolate product. This infused CBD peanut butter has a great price value, coming in at just $0.08 per milligram of CBD. Knowing how many dogs love peanut butter, this could be an easily incorporated treat for your pet's routine.
One More Unique CBD Pet Treat & Oil: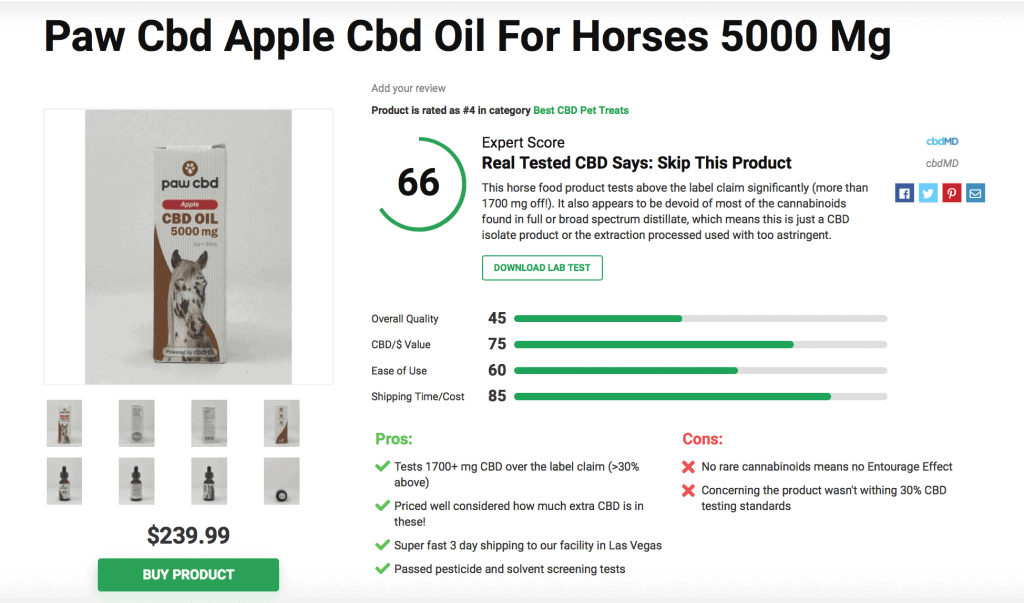 Topping off our favorite CBD pet treats with one more unique option. Paw CBD Apple CBD Oil for Horses is a unique option for the equestrians out there. This apple flavored oil tests well above the label claim with 6700mg of CBD per package. This high potency means your large animals could potentially benefit from the active CBD, even with no other rare cannabinoids present. This CBD oil offers an incredible value for buyers, just $0.04 per milligram – time to giddy up!
Best CBD Treats For Pets Key Takeaways
When it comes to taking care of our pets, giving them the absolute best is the bare minimum. Whether you have an aging dog, an anxious cat, or a sore horse, CBD treats could be a great natural addition to their lives. Rely on Real Tested CBD's lab test results and expert reviews to make sure you get your pets the best CBD treats on the market, just like the few listed above. Check out our entire list of Best CBD Pet Treats or our Best CBD Oils for Pets for even more great options of CBD for your pets.
*This article was last updated on 11/11/2020*
Most Recent Tested products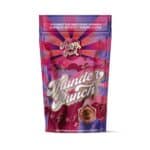 Happy Fruit Hemp HHC Gummies - Thunder Punch
$20.00
Cannacea Tagrid's 100 Full-Spectrum Hemp Oil
$77.50
Cannacea Activated 40 Full-Spectrum Hemp Oil
$38.50
Recent Posts
Blog Categories