For CBD hemp vendors in Texas, there's a lot at stake in an upcoming Supreme Court ruling. Depending on how this new case goes, the Lone Star State could either lift its ban on smokable hemp or keep the law intact. Anyone involved in Texas's hemp market must pay careful attention to the latest developments in this case.
Wait, Smokable Hemp Is Illegal In Texas?
There are many nuances to Texas's current stance on smokable hemp. However, CBD hemp farmers' primary concern is the state's tough stance against hemp manufacturing. Since 2020, hemp farmers in Texas haven't been allowed to manufacture smokable hemp products in the state. The Department of State Health Services also introduced a ban on selling smokable hemp products within Texas's borders.
Note that Texas doesn't technically have a ban on using CBD hemp flowers, provided they have less than 0.3 percent THC. The leading issue hemp shops have sued the state over is the restriction on the manufacturing and sale of smokable goods like flowers and pre-rolls.
Although the smokable hemp ban is still the "law of the land," it's on pause until Texas resolves this issue. Starting on March 22nd, the Texas Supreme Court began hearing arguments for lifting and maintaining this ban.
Those in favor of the smokable hemp ban claimed the law was a matter of public safety. Lawyers who represented hemp companies noted that smokable hemp restrictions forced businesses to open farms in neighboring states like Oklahoma.
The Supreme Court is reviewing the arguments from both sides and should decide on the smokable hemp ban by this summer.
So, What CBD Products Could Texans Legally Buy?
Although smokable hemp flowers aren't fully legal yet, Texans can buy many other CBD items without worrying about legality issues. In 2019, Texas passed House Bill 1325 in response to the 2018 US Farm Bill. Under Texas's latest laws, any adult could legally buy hemp-extracted CBD oils, topicals, and edibles with ≤ 0.3 percent delta-9 THC.
Texans can also legally buy delta-8 THC extracts if they come from a hemp source with ≤ 0.3 percent delta-9 THC. Although some drug enforcement agencies have targeted delta-8 in Texas, the Supreme Court stopped this issue in December of 2021. Delta-8 products are technically under an "injunction" now, but they are widely available for Texans to buy and use.
Find The Best Smokable And Non-Smokable CBD On Real Tested CBD
The fate of smokable hemp joints in Texas remains uncertain. Although there's no law barring adults from using smokable hemp flowers, it's more difficult for Texans to get this product from local sources. Most hemp farmers in Texas are afraid they're growing an illegal product, so they've halted production until this legal issue resolves.
Despite the controversy surrounding smokable CBD hemp, there are many CBD items Texans can enjoy. If you're shopping for CBD or delta-8 brands online, we'd recommend first scanning the unbiased tests on Real Tested CBD. The details in our reviews should help you figure out which hemp products are the best fit for your lifestyle.
Most Recent Tested products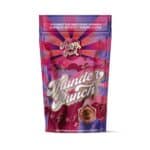 Happy Fruit Hemp HHC Gummies - Thunder Punch
$20.00
Cannacea Tagrid's 100 Full-Spectrum Hemp Oil
$77.50
Cannacea Activated 40 Full-Spectrum Hemp Oil
$38.50
Recent Posts
Blog Categories