Happy 4/20 Everyone!
There's a reason why the best CBD gummies or best CBD edibles are becoming increasingly popular. Not only are they an easier and much more fun way to consume CBD, but they are also very convenient and discreet. In addition to that, they can be one of the strongest ways to consume CBD. This means that CBD gummies can soothe the pain, stress, and anxiety of many people very effectively, without them getting high or intoxicated. Also, did we mention that they taste like candy? (They are essentially candy…)
In other words, CBD gummies are the perfect solution for someone wanting to get their CBD fill, with plenty of desirable qualities. The question is, which CBD gummies to buy? With so many brands and companies operating in this largely unmonitored market, it is easy to get ripped off or to buy a CBD product that doesn't have the correct dosage.
Top 3 Best CBD Gummies of 2021
1. CBDMD Premium CBD Gummies
The company CBDMD itself has bagged quite a few awards, such as "best flavor," "2016 Reviewer's Choice Award," and "Highest Quality Award." However, CBDMD's Premium CBD Gummies made this list because of their strength. CBDMD offers gummies with a total strength of 300 mg, 750 mg, and 1500 mg. Since this jar offers 30 gummies, it means you can get 10 to 50 mg of high-quality, hemp-extracted & THC-free CBD per piece.
2. Green Road CBDFroggies
Green Roads CBD offers not just one, but four hyper-concentrated CBD gummies. These gummies come in the forms of bears, CBD Froggies, and fruit bites, all of which contain 50 mg of CBD in them. These award-winning gummies offer a high concentration with delicious sugar coating and are easy on-the-go servings.
To view our complete list of the best CBD gummies, click here!
3. CBD American Shaman CBD Gummies
CBD American Shaman comes through again with their 300 mg CBD gummies. These CBD gummies contain 300 mg of CBD per container and have high-quality, hemp isolate CBD, not only to satisfy your sweet tooth but also to deliver all the benefits of CBD gummies.
Honorable Mentions
CBDfx Hemp Gummies Mixed Berry 40 mg
These Hemp Gummies Mixed Berry 40 mg from CBDfx passed both residual solvent & pesticide testing, and shipping for this product was fairly quick (also free). These CBD gummies come in multiple flavors and taste delicious. They are, however, made with CBD isolate, not full/broad-spectrum CBD, as they contain no rare cannabinoids. Find out more by clicking here.
CBD Infusionz Mixed Fruit Flavor Fruit Snacks 600 mg
These CBD Infusionz CBD Fruit Snacks 600 mg have a great value ($/CBD) at $0.05 per mg. They did test above the label claim for total CBD per package by almost 300 mg, but they are delicious and contain a good amount of CBD. However, this product appears to not be made from full-spectrum hemp, because it didn't test for anything other than just CBD.
Find a complete list of the best CBD products for sale by clicking here!
Most Recent Tested products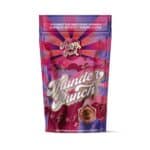 Happy Fruit Hemp HHC Gummies - Thunder Punch
$20.00
Cannacea Tagrid's 100 Full-Spectrum Hemp Oil
$77.50
Cannacea Activated 40 Full-Spectrum Hemp Oil
$38.50
Recent Posts
Blog Categories