There have been many conflicting stories surrounding delta-8 THC in Georgia in recent months. On the one hand, many hemp shops have been forced to clear their shelves of any hemp-derived delta-8 extracts. However, a few counties appear to see delta-8 as a non-issue. Amazingly, Georgia legislators almost made delta-8 legal in March.
So, what's going on with delta-8 THC in the Peach State? Although hemp legality is always changing, here are a few pertinent facts Georgians should know about delta-8 products.
What's Going On With Delta-8 THC In Georgia?
Georgians have seen plenty of delta-8 controversies this March. First off, Drug Task Force officers sent warnings to multiple vape chops and hemp retailers in Catoosa, Dade, and Walker Counties. According to these recent notices, shops must immediately pull all products that contain delta-8 or delta-10 THC.
Vape shop owners in these Georgia counties are now demanding clarity from state lawmakers on how the state views hemp-derived THC cannabinoids. Shop owners in Fulton County have also introduced a lawsuit that would require the state to explain its stance on delta-8.
Despite these recent crackdowns, one Georgia judge halted new legislation that would ban delta-8 substances. Since January of 2022, Gwinnett County's DA Patsy Austin-Gatson prioritized classifying delta-8 and delta-10 in the same category as delta-9. Numerous businesses affected by Austin-Gaston's policy brought a lawsuit against the DA. After Judge Craig Schwall heard this case, he ordered Austin-Gaston's office to stop obstructing businesses for 30 days as they review this policy.
Most interestingly, state lawmakers in Atlanta almost accidentally opened the doors for delta-8 adoption. Senate Bill 481's primary goal was to help encourage more Georgians to enter the hemp farming industry. However, the bill's authors included a provision to legalize non-delta-9 hemp derivatives like delta-8.
Although Senate Bill 481 didn't pass, it could come up for review in future sessions.
So, What Does All This Mean For Delta-8 THC In Georgia?
Unfortunately, all of these recent developments haven't brought clarity to Georgia's hemp laws. While it's legal for Georgians to buy and use hemp-derived CBD oils, delta-8's legality remains a mystery.
However, only a few counties have a direct issue with delta-8 hemp vendors. People who live in territories like Catoosa, Dade, and Walker need to be extremely cautious about buying and using delta-8.
Until Georgia's state law specifies delta-8 THC, this cannabinoid remains technically legal under the 2018 US Farm Bill. There's no mention of delta-8 being an illegal substance in federal law, so it should be legal throughout Georgia. However, given the recent raids in many Georgia counties, residents should reach out to their local legislators if they have concerns.
Never Buy Delta-8 Without Unbiased Lab Tests!
Even if your state takes a relaxed stance towards delta-8 THC, you must be careful about ordering from hemp companies. There's no federal body that oversees the US hemp industry. The only way you could verify your delta-8 brands are legit is to buy products with a third-party lab result (aka a Certificate of Analysis).
If your delta-8 manufacturer doesn't send its products for third-party tests, then warning alarms should sound in your mind. Every reputable hemp vendor knows that Certificates of Analysis are the only way to promote industry transparency in the unregulated hemp market. For more information on evaluating delta-8 brands, please check out Real Tested CBD's guide to delta-8.
Most Recent Tested products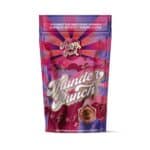 Happy Fruit Hemp HHC Gummies - Thunder Punch
$20.00
Cannacea Tagrid's 100 Full-Spectrum Hemp Oil
$77.50
Cannacea Activated 40 Full-Spectrum Hemp Oil
$38.50
Recent Posts
Blog Categories