CBD gummies might be colorful and fun, but they are serious business. Many brands create CBD gummies as a solution with specific problems in mind. However, with so many options available in the market for a customer to choose from, the decision can become difficult. Here you can find some of the most effective and reliable CBD gummies for sleep and pain issues with real lab-backed results.
Seven Effective CBD gummies for Sleep and Pain
Charlotte's Web CBD gummies
Charlotte's web CBD gummies are globally recognized. Although Charlotte's web offers solutions to issues related to anxiety and sleep, their pain relief and recovery gummies are most well-known among their users. The gummies support joint health and strength because of their specially formulated blend of ginger, turmeric, and whole-plant hemp extract with CBD.
They offer 60 gummies per package with each gummy having 10 milligrams of full-spectrum CBD, 25 to 50 milligrams of ginger, and 50 milligrams of turmeric.
Tribe CBD All Natural CBD Gummies
Tribe CBD is one company that believes in the highest quality from seed to sale. Their all-natural CBD gummies contain 10mg of broad-spectrum CBD oil per tasty treat, allowing you to dose your consumption perfectly. These gummies have a delicious strawberry flavor, naturally created with fruit juices and agave. Tribe's gummies are perfect for on the go pain or stress management as well as to wind down and promote sleep at the end of the day. Not only does Tribe offer these tasty gummies, but they also have a CBD drink or "shot" created specifically for sleep. Click here to learn more about Tribe CBD's Sleep Shot.
cbdMD CBD gummies
cbdMD make their premium CBD gummies from organic and non-GMO hemp. The gummies are also vegan and gluten-free, with each gummy having a CBD strength of 10 to 25 milligrams. It makes them perfect for people who might have dietary restrictions and want to experience deep and peaceful sleep.
They have relaxing properties to soothe pain due to strong CBD infusion to help relax your nerves. Their official webpage sports some genuinely excellent reviews among which insomniacs and people who have PTSD spoke out about the calming effect the gummies have had on their health.
Shop CBD products catered specifically to seniors by clicking here.
CBDfx Hemp Mixed Berry Gummies
CBDfx mixed berry flavor CBD gummies are home-grown in the United States. They derive their CBD oil from the organically grown hemp plants at the state of the art farms in the US. These hemp-based fruitful gummies are 100% organic with vegan CBD edibles and non-GMO ingredients. There are no artificial ingredients, sweeteners, or harmful chemicals present in these gummies.
They have very effective pain relief and sleep-inducing capabilities of the CBD oil because they use only broad-spectrum hemp plants. It means you get all the natural goodness of hemp plants to calm and relax your nerves at any time of the day. If you are looking for a truly pure CBD experience, then you must get this one.
Lord Jones CBD Gumdrops
If you like things done the old fashioned way, then this one is going to make you a bit nostalgic. Lord Jones uses the old fashioned method of making gums by hand. Yes! Each of these CBD gumdrops by Lord Jones is hand-made. They come in small batches with natural flavoring, gelatin, citric acid, and sugar as ingredients.
The CBD oil used in these gumdrops comes from only broad-spectrum hemp plants. That means these old-fashioned gummies contain all the beneficial natural ingredients of CBD oil to calm and relax you in the hour of need. Whether you have any chronic pains or it is the regular night sleeping pattern you are after, Lord Jones gumdrops may do the job for you.
Green Road's Froggies
The flagship edible CBD product of Green Roads, or CBD Froggies as we know it – is the best remedy for pain and sound sleep. If you are a busy individual with a lot going on in life that is causing exertion, loss of sleep, or excessive aches and pains, you must try these gummies to help you relax.
This proprietary recipe contains 25 mg of CBD goodness per gummy, which means you get enough in your system to help calm your nervous system with cannabinoids goodness.
CBD American Shaman Gummies
It is one of the best CBD gummies in the market formulated with hemp oil rich in terpene with a mixed fruit twist. CBD American Shaman CBD gummies make your CBD intake a sweet treat experience, plus they use non-GMO hemp plants home-grown in the United States. They are also lab-tested CBD gummies for purity and potency.
If a small quantity of CBD helps you sleep or aid in pain relief, then this product is for you. American Shaman fruity CBD gummies contain only 10 mg of CBD oil per gummy, which is perfect for people who feel uncomfortable using a higher dosage.
Buy Responsibly
Whether you are a regular user of CBD gummies for sleep and pain, it is imperative that you do proper research before you buy CBD products. Buying from a reliable source such as RealTestedCBD is a good option; not only can you be confident while buying, but you also get full details on the CBD product you are buying.
Most Recent Tested products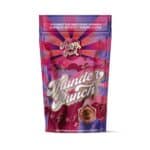 Happy Fruit Hemp HHC Gummies - Thunder Punch
$20.00
Cannacea Tagrid's 100 Full-Spectrum Hemp Oil
$77.50
Cannacea Activated 40 Full-Spectrum Hemp Oil
$38.50
Recent Posts
Blog Categories