More American patients than ever before have access to medical cannabis products. Even though marijuana isn't federally legal in the USA, many states have regulated MMJ programs. Plus, let's not forget Canada fully legalized weed in 2018!
Although it's easier for patients to get medical weed or CBD hemp products, many complain about the cost of these items. Even diehard cannabis supporters admit that lab-verified CBD and THC items can cost a pretty penny. Understandably, some MMJ cardholders have considered growing cannabis cultivars at home to cut their monthly expenses.
However, just because someone has a valid MMJ card doesn't mean they have the right to grow cannabis at home — including CBD hemp strains. MMJ patients must carefully review their territory's latest home-cultivation policies before ordering a batch of high-CBD seeds.
Why Can't MMJ Patients Grow Hemp At Home?
There are a few glaring ambiguities in the 2018 US Farm Bill (ahem, delta-8 THC!). However, this federal law clearly states that all hemp-derived products with ≤ 0.3 percent delta-9 THC are OK for cultivation, sale, and use in the USA. So, that means at-home hemp cultivation is legit, right?
There's no official word from the federal government on whether average citizens could grow hemp plants indoors. The only people allowed to grow hemp in the USA must have a state-approved license from their local Department of Agriculture.
This general policy gets more complicated when you add medical marijuana into the mix. Even though marijuana is a "Schedule I" drug at the federal level, dozens of states allow patients to apply for an MMJ license. This card gives MMJ patients extra privileges, which may include legal at-home cultivation.
Yes, some states let MMJ cardholders grow a limited number of cannabis plants indoors. Since hemp is a cannabis cultivar, it should be OK for MMJ cardholders to grow CBD strains if their state allows at-home cultivation. However, at-home growers must keep their cannabis growing discreet and abide by the cultivation limits in their state.
If a state doesn't have an official policy for at-home cannabis cultivation, residents shouldn't grow CBD hemp strains indoors. Police in states with harsh cannabis cultivation laws won't distinguish between CBD hemp and THC-containing marijuana. Since these plants look similar, at-home cultivators could face the same penalties a marijuana grower would face, including heavy fines and jail time.
Find Fire CBD Flowers Near Me On Real Tested CBD!
Currently, most US states don't allow residents to grow cannabis at home. Even if your local government has lenient cannabis policies, it's usually only MMJ cardholders that could grow a few cannabis plants indoors. Most American residents should avoid growing CBD hemp until lawmakers relax their stance on at-home cultivation.
Although cannabis cultivation laws may be restrictive, it's getting easier for American customers to find high-CBD hemp flowers and pre-rolls for sale. If consumers want to give CBD hemp a try, they must double-check the quality standards of their farm. Not every CBD brand sends its flowers to third-party labs for analysis. Please check Real Tested CBD's ratings on the best CBD hemp flowers and pre-roll joints to verify you're getting the highest-quality hemp.
Most Recent Tested products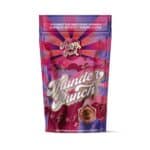 Happy Fruit Hemp HHC Gummies - Thunder Punch
$20.00
Cannacea Tagrid's 100 Full-Spectrum Hemp Oil
$77.50
Cannacea Activated 40 Full-Spectrum Hemp Oil
$38.50
Recent Posts
Blog Categories