CBD users always look for improved products in the market. Real Tested CBD aims to bring them all the news and updates from the CBD industry. Our team stays focused on what is happening in the scientific research and product innovation arena in this sector.
The CBD industry is getting more active with time, and new CBD brands and products emerge on the horizon now and then. Our goal is to track these brands and give a review of what these products are and what they entail.
We pick up the best products of top brands, and our CBD product reviewing experts run a lab test on them. The idea is to find out what is inside these products, are they safe for humans? And if the product is actually what the label claims it to be.
The CBD brand we are reviewing today is "Canniant CBD."
Canniant CBD: A Review
Canniant CBD is one of the fastest-growing CBD brands in the industry. The company says its vision is to be a leader, educator, innovator, and a model brand in terms of quality assurance in the booming CBD market. The company aims to make CBD-infused products accessible to CBD consumers to benefit from it. Canniant CBD is continually conducting research and investing in the development of new commercial CBD products.
Canniant CBD is a global CBD manufacturer with the widest range of CBD products in the United Kingdom. They are also the first-ever producer of CBD lubricant in the European region. Additionally, the brand also has a patent for the world's first recyclable CBD-based energy drink and protein. They are pushing the boundaries in CBD innovation.
The brand offers CBD oils, vape cartridges, soothing lotions, massage oils, and pet CBD oils. Canniant CBD even has its own CBD coffee produced to the highest purity and quality standards in Italy. We reviewed three of their products that include CBD- Infused Coffee, CBD-infused oil, and a CBD-based soothing lotion. Here are the findings of our lab test report.
Canniant Premium Ground CBD Coffee – 200mg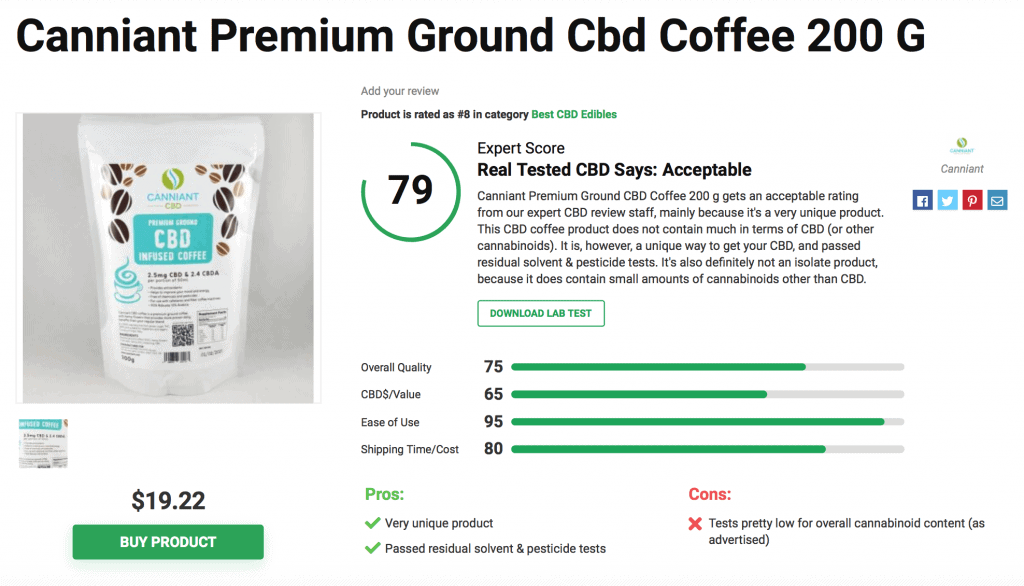 This CBD infused coffee is a very unique product, receiving a score of 79 on our expert scale. It passed the solvent and pesticide test with flying colors. Although this is a unique CBD product to give a go, it doesn't have a large amount of CBD present, which is advertised on the packing and fully transparent of Canniant. There is a small amount of THC present in this CBD-infused coffee so air on the side of caution if you are subject to any drug testing.
Canniant Cbd Oil 1500 Mg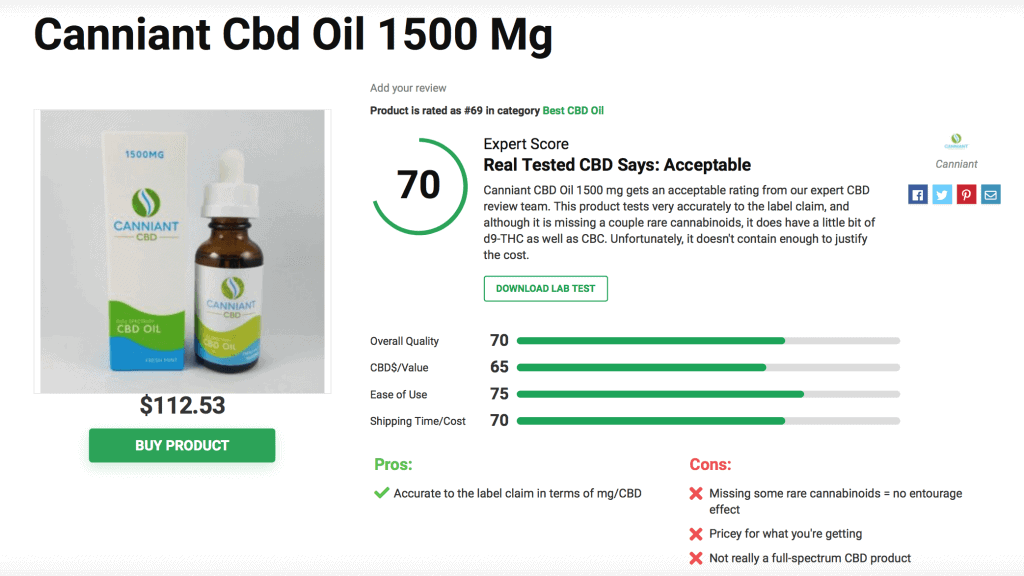 This CBD-infused oil by Canniant comes in a bottle with a dropper. The label on the bottle claims the oil comes from a Full-spectrum CBD. Canniant CBD oil has a fresh mint flavor, and the label states the quantity of CBD to be at 1500 mg per bottle.
Our lab test reviewing experts gave this product an acceptable rating. This CBD oil tests accurately to its label's claim; however, it is missing all the rare cannabinoids that are always present in full-spectrum CBD.
The oil does contain a small quantity of CBC and d9-THC. Unfortunately, the quantity is too low to justify the high cost charged by Canniant CBD. The company claims to use all-natural ingredients in all its CBD-infused products. Our lab test report found CBD levels of 1568.24 mg per bottle, which is slightly higher than the label's claim. Although CBN and CBG are missing, the quantity of d9-THC and CBC are at 7.55 mg and 9.40 mg per bottle. We did not find any traces of harmful pesticides and industrial solvents in this product.
Canniant Cbd Soothing Lotion Minted Lavender 250 Mg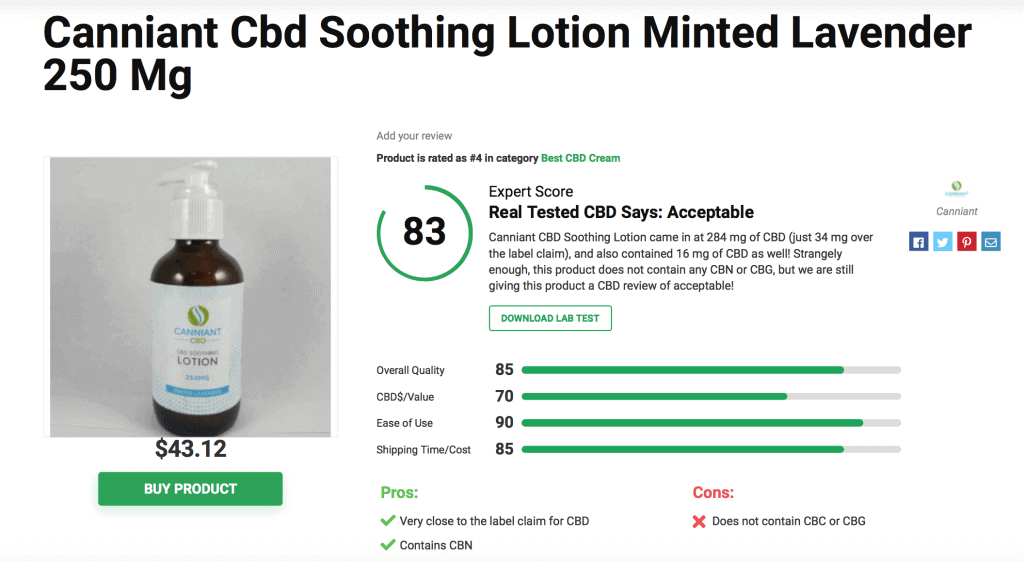 Canniant CBD offers a soothing lotion with a mint-lavender fragrance. It promises to offer 250 mg of CBD goodness to the users. Our test result found the actual CBD levels to be at 284mg, which is slightly higher than the label's claim.
The lotion does not contain any rare beneficial cannabinoids, such as CBG, CBN, and d9-THC. However, you get a decent amount of CBC when using this lotion, which is 16.07 mg per bottle. That is the reason why our CBD products review team gave this CBD soothing lotion an acceptable rating.
Some of the main ingredients present in the lotion are Glycerin, Sesame seed oil, Safflower Seed Oil, Cetyl Alcohol, Shea Butter, jojoba seed oil, Avocado Oil, lavender extract, Grape Seed Oil, Cucumber Fruit Extract, Matricaria Flower Extract, Allantoin, Panthenol, Xanthan Gum, Alcohol, Tocopheryl Acetate, Benzoic Acid, Lecithin, Polysorbate 60, and Echinacea Angustifolia Extract
Our lab test results did not find any traces of industrial solvents and harmful pesticides in this lotion. The lotion is for skin application only and works by rapid absorption of CBD directly through the user's skin.
Most Recent Tested products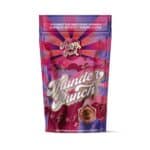 Happy Fruit Hemp HHC Gummies - Thunder Punch
$20.00
Cannacea Tagrid's 100 Full-Spectrum Hemp Oil
$77.50
Cannacea Activated 40 Full-Spectrum Hemp Oil
$38.50
Recent Posts
Blog Categories