There is a new cannabinoid in the spotlight these days; delta 8 THC. If you are looking to try or learn about delta 8 for the first time, you have come to the right place. Buying delta 8 THC, or any other cannabinoid product, can be tricky if you don't know what you are looking for in a quality product. Here at Real Tested CBD, we take the guesswork out of your delta 8 THC purchase with independent lab test results and unbiased CBD brand reviews.
As the number of cannabinoids on the market grows, so do the number of products; but not all of them are creating equally. Delta-8 is an isomer of traditional THC (delta-9 THC), meaning they have a slightly different chemical makeup and impact on users. Some consumers of delta-8 have reported decreased psychoactive effects than with delta-9. But this can depend on the product you are purchasing.
Delta 8 is also thought to have potential for therapeutic properties like stress relief, appetite stimulation and sleep aid, similar to CBD and THC. It is important to distinguish delta 8 from CBD, as the two cannabinoids can impact users very differently. If you are a fan of traditional THC, delta 8 could be for you. If not, then delta-8 may not be the best choice either as it does contain potentially psychoactive properties, unlike CBD.
We test for purity, potency and quality so you can make sure you are getting exactly what you need out of your cannabinoid purchase. From oils to gummies and smokables, we provide you with an accurate review of label claims pesticide and residual solvent tests results. Today we bring you a few delta 8 THC products from 'Plain Jane' and we think you will like what you see.
"Plain Jane was started to make CBD hemp flower products more accessible and affordable. We now have more than 75,000 customers in almost all of the United States. Our goal is simple. To get you the best CBD flower at the best prices." – Plain Jane
'Plain Jane' Delta-8 THC – Real Tested CBD Review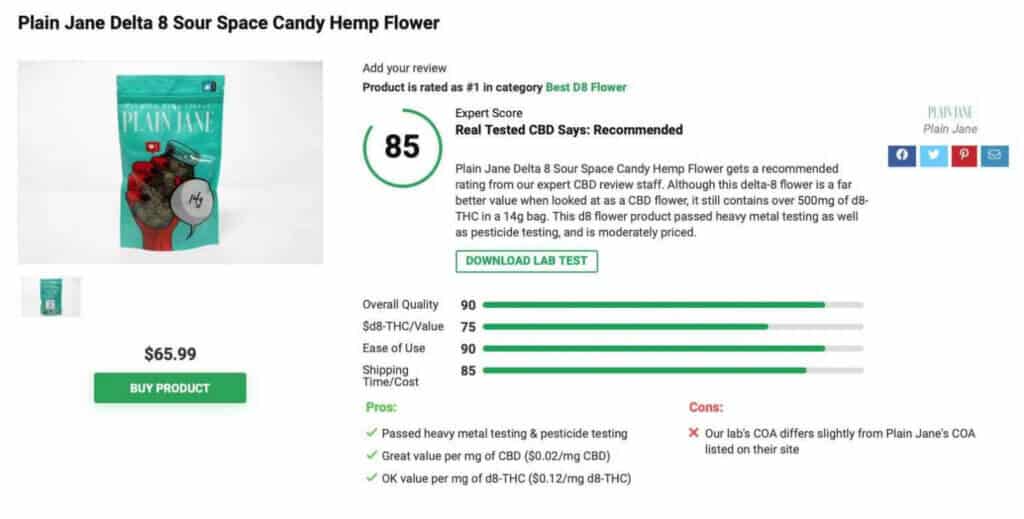 First up from Plain Jane today is their Delta 8 Sour Space Candy Hemp Flower. This D8 flower got a recommended review from our experts and ranks high in our Best D8 Flower Category. This hemp strain contains a solid 538mg of delta 8, and only 144mg of legal delta 9. Although this flower is sold as a D8 strain, it could double as a CBD flower. There is a whopping 2,600mg of CBD in this 14-gram bag. This delta 8 flower passed the heavy metal and pesticide tests with flying colors and are a safe choice for a smokable. This flower offers a great value to customers, costing just around $0.12 per milligram of delta 8 THC. Our lab tests did differ slightly from Plain Jane's COA, but overall we recommend this as a safe and reliable choice for a delta 8 THC flower.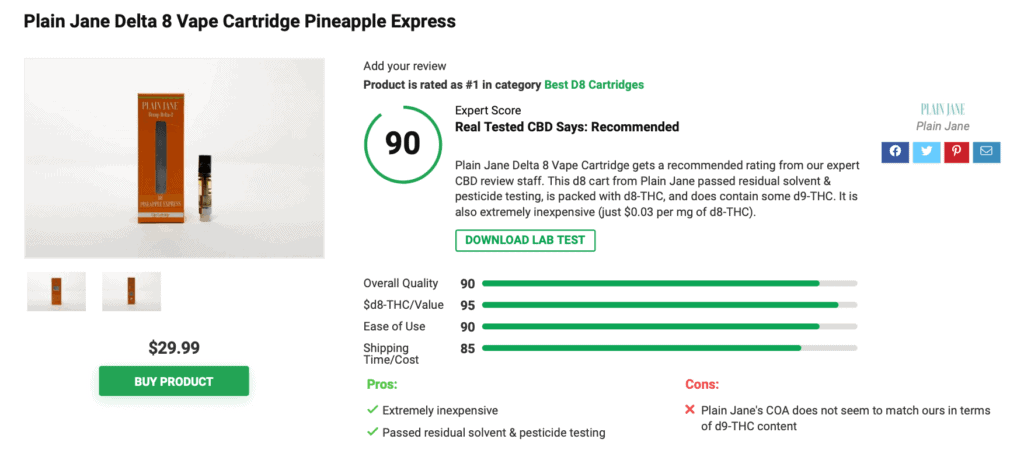 Next, we have a Plain Jane Delta 8 Vape Cartridge in Pineapple Express. This vape cartridge gets a recommended review from our experts and ranks high with a score of 90 out of 100 on our experts' scale. With passes on all solvent and pesticide tests, this is a safe delta 8 THC vape cartridge to try. This vape cartridge is packed with D8, containing 929mg of delta 8! There is only 60mg of legal delta 9 THC. Another perk to this Plain Jane product is the cost; it comes it around $0.03 per milligram of delta 8 and the same per milligram of delta 9. Again, our only dispute with this product was that Plain Jane's COA differed from ours in terms of delta 9 THC content. Nonetheless, we recommend this as a reliable delta 8 THC vape cartridge.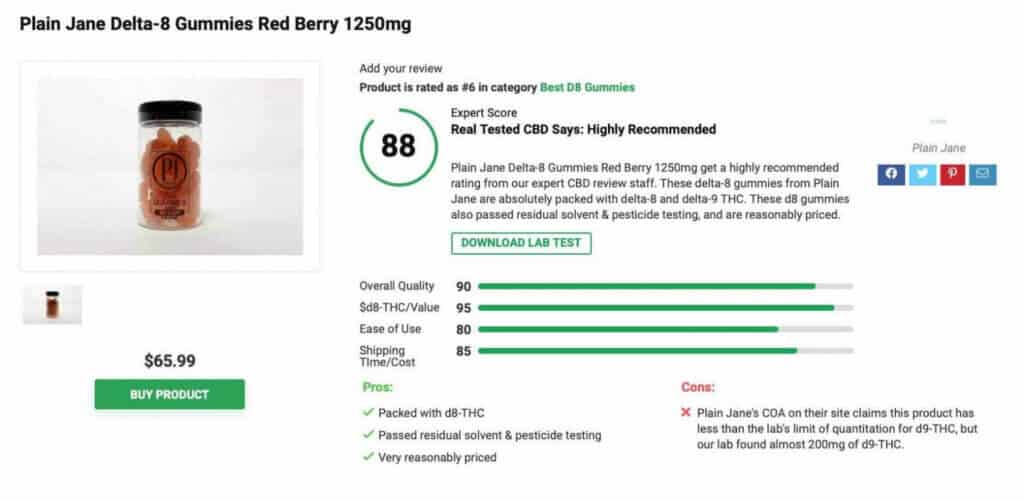 Now we have Plain Jane Delta 8 THC Red Berry Gummies in 1250mg. These gummies get a highly recommended review from our experts and rank in the top ten of our Best D8 Gummies Category. These gummies passed all pesticide and solvent tests and are reasonably priced at just around $0.06 per milligram of delta 8 THC. This red berry gummies are loaded with delta 8 THC, containing 1079mg. These gummies did test higher for delta 9 THC than Plain Jane's COA states, with 186mg, but still they are packed with delta 8.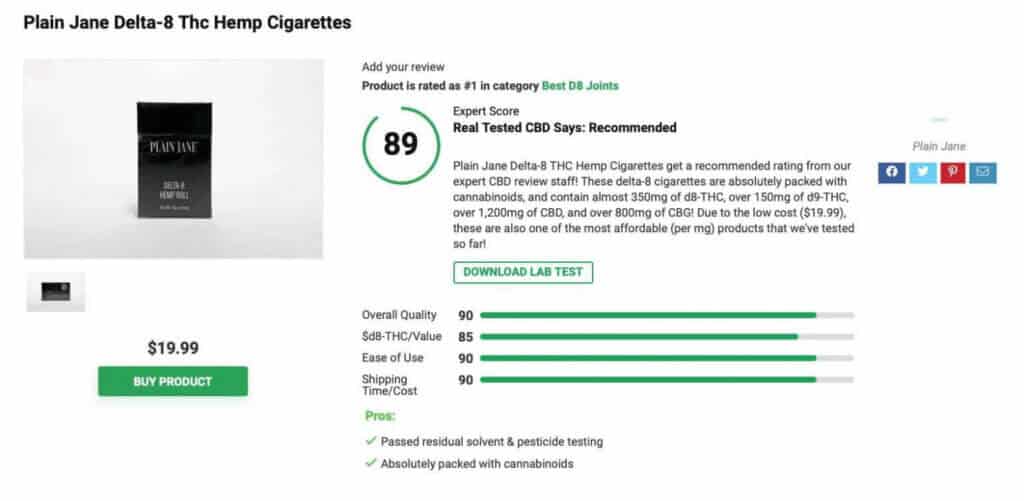 Finally, we have Plain Jane's Delta-8 THC Hemp Cigarettes with a recommended review from our experts and the top spot in our Best D8 Joints Category. These pre-rolls are packed with cannabinoids, including over 1200mg of CBD and 800mg of CBG. These hemp cigarettes also have 348mg of delta-8 THC, but keep in mind there is also 167mf of traditional legal delta-9 THC. With passes on all solvent and pesticide testing, these are a safe smokable delta-8 product. Our experts recommend these hemp cigarettes if you are looking for a delta-8 product that also has other cannabinoids. Another plus, they are very affordable, costing just around $0.11 per milligram od D8!
'Plain Jane' Delta-8 THC – Real Tested CBD Takeaways
When it comes to the delta 8 THC market today, the number of options for consumers is ever growing. But just like CBD, not all products are created equally. Turning to third party lab test results is the best way to ensure a legit and reliable purchase.
When it comes to Plain Jane's Delta 8 THC, we enjoyed testing their products and find them to be of good quality. We did see some differences in our lab test results to Plain Jane's COA for their products, but overall they have high-quality delta 8 and CBD based products. We recommend Plain Jane.
For more Real Tested CBD Reviews, click here. And check here for our full Delta-8 Resource Page. 
Most Recent Tested products
AdvenTrue Elev8 30mg Delta-8 Gummies
$39.95
AdvenTrue Renew CBD/CBG Muscle + Joint Pump
$29.95
AdvenTrue Balance CBD/CBG Anytime Gummies
$34.95
Recent Posts
Blog Categories