While CBD oil tinctures seem to be the most popular way to ingest cannabidiol, CBD hemp strains have also seen a rise in popularity as of late. Because of their resemblance to "traditional" marijuana strains and the fact that they are consumed through smoking, CBD hemp strains are a great alternative to cannabis. In fact, the only real difference is that CBD hemp doesn't get you high like marijuana does.
Those who have to be weary about drug testing can rest easy while smoking CBD hemp, because Hemp and cannabis grown within the United States for CBD production must have a THC threshold of under 0.3%. CBD, of course, does bring its own benefits. It is thought to have a range of therapeutic properties from pain relief to stress reduction. Many people actually use CBD to help them attain a better night's sleep.
Whether you choose to use CBD topically, ingest CBD oil, or smoke CBD hemp strains, CBD could improve your quality of life with its wide array of potential health benefits.
Why You Should Only Smoke Lab Tested CBD Hemp Strains
CBD hemp strains, like any other form of CBD, should only be consumed if you are sure that they are a safe and legitimate product. The best way to do this is to look over any CBD product's unbiased third-party lab test results. At RealTestedCBD.com, you can view lab test results for a plethora of CBD products, ranging from CBD hemp strains to cream topicals and everything in between.
Each year, we look at these results to determine what the best CBD products currently are. So if you are interested in smokable CBD hemp strains, but don't know where to start, consider giving one of the following products a shot.
The Top 3 CBD Hemp Strains Of 2022
Finding a product you can trust is the key when it comes to smokable CBD. Here at Real Tested CBD, we conduct independent lab test results to ensure the quality, purity, and potency of hemp strains among other CBD products. If you're searching for high-quality hemp strains, look no further:
Dad Grass Hemp CBD Flower Quarter Ounce – First on our list is the Quarter Ounce Hemp CBD Flower from Dad Grass. This CBD flower is one of the highest-quality hemp strains we've tested. Not only does it test accurately on all fronts, but it is hand-trimmed, thoroughly inspected, and comes with rolling papers.
Infinite CBD Hemp Flower 1/8 oz Elektra – Next up is the ⅛ oz Elektra Hemp Flower from Infinite CBD. This hemp flower product is a sativa-dominant hybrid, and tests fantastically for cannabinoids. It has a total of 26 mg of THC (d9-THC & THCa), and a total of 771 mg of cannabinoids in this 1/8 oz jar.
Cascadia Blooms Direct CBD Flower Lifter 1 oz – Rounding out our list is the 1 oz Direct CBD Flower Lifter from Cascadia Blooms. Not only is this CBD hemp strain packed with cannabinoids, but the cost per mg of CBD is extremely low, at around $0.01/mg. This hemp flower also passed testing for moisture, pesticides, and heavy metals.
For Unbiased Third-Party Lab Test Results, Turn To Real Tested CBD!
Whether you are shopping for CBD oil tinctures, CBD topicals, or smokable CBD hemp strains, it is imperative that you look over any given CBD products' lab test results. This is the only way you can be completely sure that the product you are consuming is safe, trustworthy, and of the highest quality. Visit us at RealTestedCBD.com to check out our compiled lab test results for different CBD products and to see our other rankings for the best CBD products of 2022!
Most Recent Tested products
Cannacea Tagrid's 100 Full-Spectrum Hemp Oil
$77.50
Cannacea Activated 40 Full-Spectrum Hemp Oil
$38.50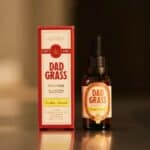 Dad Grass Goodtime Formula + CBG Tincture
$55.25
Recent Posts
Blog Categories