While CBD oil may be infused in food and drink recipes or taken directly as a tincture, many CBD consumers choose CBD capsules because they are extremely quick and easy to use. CBD capsules also make it simple to consume a specific desired dose. Because of this, there are a lot of new CBD capsules that appeared on the market this year.
If you are new to CBD, capsules might appeal to you as an easy starting point. As with any consumable product, you want to make sure that the claims made on the label are accurate and that there are no traces of harmful substances. That's why you should look for third-party lab test results for any CBD product you are considering consuming. Read on to find out which CBD capsules ranked at the top of our lists this year.
Top Five Lab Tested CBD Capsules
Here are three high-quality, lab tested CBD capsules. If you are new to CBD capsules and don't know where to start, consider giving one of these options a shot:
Turn To Real Tested CBD To Find Out What's In Your CBD
Whether you are looking for CBD capsules or another type of CBD product, Real Tested CBD can help you find trustworthy, high-quality brands. Not only do third-party lab tests give you insight on what cannabinoids are present in your product of choice, and at what level, but also if there are any unsavory ingredients or solvents.
Looking at third-party lab test results and objective product reviews allows you to make an educated CBD purchase, and therefore receive the effects you are looking for. Visit RealTestedCBD.com to view our comprehensive lists of the best CBD products of 2022!
Most Recent Tested products
Cannacea Tagrid's 100 Full-Spectrum Hemp Oil
$77.50
Cannacea Activated 40 Full-Spectrum Hemp Oil
$38.50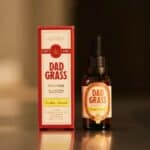 Dad Grass Goodtime Formula + CBG Tincture
$55.25
Recent Posts
Blog Categories